I am so excited but also so so nervous to talk to you guys about this new series of paintings I started… Something like this has been on my mind for a while, but I got the needed push when I watched the final video from Micki Wilde in her latest class, Wilde & Free.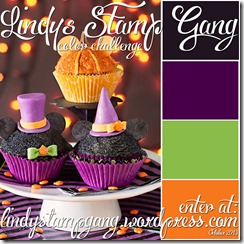 What a good opportunity to have Lindy Stamp Gang's October challenge* here to actually start making the first painting of the series.
Remember, if you enter the challenge by sharing a project made following the colors scheme (you can use as few as 2 of the colors !), you can win a gift certificate to use in the LSG shop.
How sweet is that ? and fun, too. Because it is not always easy to start creating something when you have guidelines.
We (the Design Team members) creating something for you, so you can have an idea of the huge range of possibilities. We also list the products we use so you can have a starting point.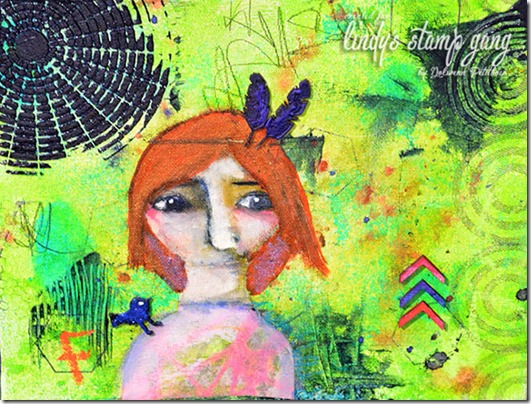 Her name is Abigail. I created her on a 10×8" canvas board, and I think I will stick to this size for all of the Nixies in this series. It is titled «Pieces of Me» (I explained the why of this series in a seperate blogpost).
I had so much fun creating the background with my LSG' Starburst sprays (the shimmery kind). It is bright green (and… well, green is not my usual go-to color, but the two I've used, I love: Bells Of Ireland Green and Rusty Lantern Lime). The drops of Canna Lily Burnt Orange is then added for contrast (and Abigail's hair color remind you of this little background touch).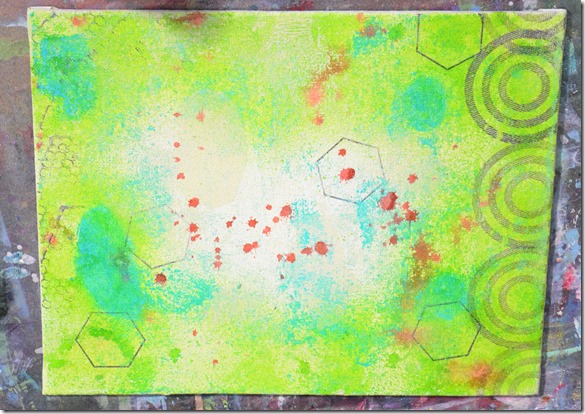 I love using the Color Shots (these are the same than the Starburst sprays but in a wide mouth jar) when I need a quick coloring, without the mess that spraying can be. This is what I used to color my wood veneer embellishments, you'll see how quick and easy it is in the video.
I also used embossing powder for her headband's feathers, two coats made the trick (I am still learning tricks about using embossing powders, and my Versamark ink is now old so it does not help to get it right). Look at that gorgeous purple (it's the Midnight Violet Obsidian)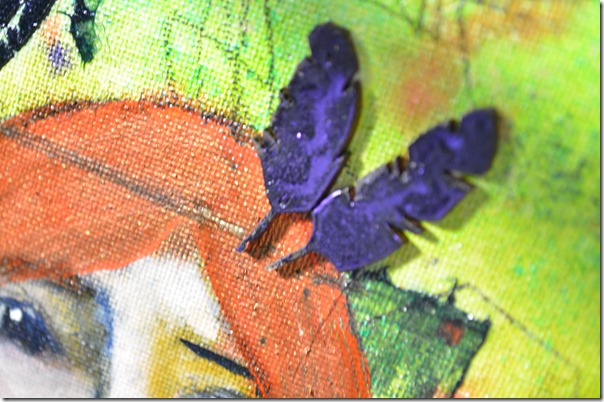 I adore the Magical Micas for plenty of different reasons. One of them is that I can add them to gels and other mediums to tint them. This is what I did to create these dark parts on the background. However, next time I will activate the Magical with a tid bit of water first, and then add it to the gel so I am sure to get its true color (and potential).
I used two different Magicals to add a bit of contrast and interest in her hair as well.

Abigail lived during the late XVIIth century. She was raised learning the power of plants, and gems, so she could help people. She was known in her village for her kindness and selflessness; she would come by your bedside at any time of day and night if you needed her. Abigail always had the right words to reassure people, seeing the best in the darkness.

She had a beautiful companion, Raven. They were the bestest of friends, and it was not unusual to cross Abigail in the street with the bird on her shoulder, looking like they were talking to each other (which they were). Raven always knew where to find what she needed so she could gather it, and take care of it as it should.

Some would call her «Witch», frowning at her in the street, even some them were doing the sign of the Cross, thinking they needed protection.

Abigail is the sweetest young woman of all, giving her all for others, never asking for anything in return. But she was the fruit of misunderstanding and fear, and gave her life because of it…
Here is the video for you (there were some glitches, I am sorry about that. Please, remember to turn on the HD for a better experience):
To make it easier for you, simply click on the product to be sent to its detailed page: