You know I am an art supply junkie. Just earlier this week, I was playing in the Studio with my two daughters on a big canvas, and then Koala turned around, and said «Mom, you really have a looooooot of things in here !» (pointing to the entire room). To which her sister answered «It is not that much, this is a creative space. So it's meant to be filled with supplies… and stuff». Ahah !
I can't help it… I love new babies to explore with. (secret confession: I am trying to sort everything and put aside what I know I won't use at all. and… I need *really need* to use all the papers and paints and other things I already have before buying anything else. Not sure I can't do it though).
So for the first episode of this series in which I share with you the products I currently use over and over, here are they: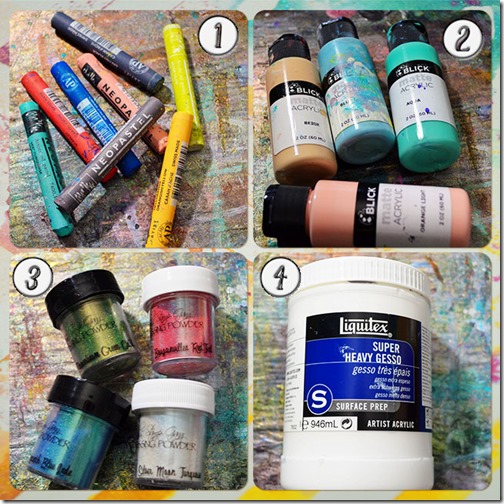 1) NeoPastels | Oil pastels from Caran D'Ache
You may know I love the Neocolor II-s which are watersoluble crayons. Amazing. I really wanted to try their oil pastels (my favorite until now where the Senellier ones, which I still really enjoy don't worry). These pastels are soft and oh so vibrant ! The pigmentation is simply out of this world. I use them for mark making and for shading.
–> (Click to see the NeoPastels on Blick's site)
2) Matte acrylic paints | Dick Blick
I love my Golden fluid acrylics, but they are glossy and sometimes this is not I want (and using in my art journal, it tends to make my pages stick together, which sucks big time). Plus, Blick came with amazing colors. Another very positive thing is their low price point: $1.99 for a 2oz jar.
I even discover color I would have never thought I would appreciate using (over and over). Right now, my new favorites are: orange light, aqua, beige (I use it on my Nixies' face a lot) and blue light.
–> (Click here to go to Blick's page for these paints)
3) Embossing powders | Lindy Stamp Gang
Lindy Stamp Gang is amazing at creating unique two-tone products. The embossing powders do not disappoint. The colors are vibrant (some are softer and more translucent though). And the combo of pigments and shimmer is just gorgeous.
I love using them with stencils in my backgrounds. They add this different touch that I simply can't do without right now. I use them on everything.
–> (Check the Embossing Powders on Lindy's website)
4) Super Heavy Gesso | Liquitex
You probably know by now that texture is a huge part of my creative process. This is what makes me utterly happy and the place I go for when I feel stuck.
This specific gesso holds very well, I use it on its own or through stencils (wash them thoroughly afterwards). It is titanium white and can be tinted (but it will affect the color and make it more pastely)
–> (Check it on Dick Blick)
What supply are you currently using the most ?