Hi guys !
I hope you're having a good Summer in the part of the World you are (or Fall for those of you in the South Hemisphere). Here, I noticed we are about halfway through the school Summer Break, which is nice because I like back-to-school time (loved it as a child as well. yes: crazy).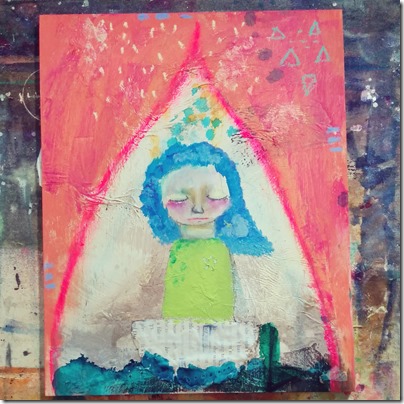 I just go with the flow, even when it means not knowing at all what I am actually doing.
But it is nice to surrender to the process, to have this deep trust that it will come up as something inspiring eventually. To keep going, layer by layer, to listen to these beautiful Inner Voices that are whispering the next steps to follow.
Meet Faith. She is on this turbulent sea in what seems to be a very tiny boat. And despite all the wrong that could happen to her, she IS Faith. She knows that whatever happens is what is meant to be. She knows that she is protected.
(Note: this original painting is available ;))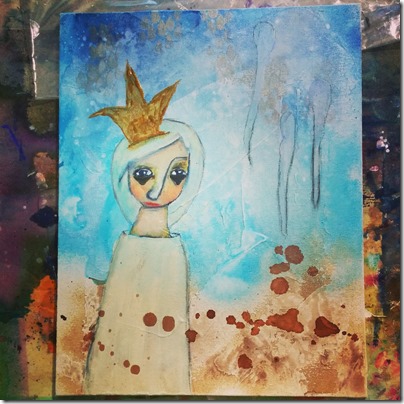 Oh this painting. It is on a 11×14" canvas board so a bit bigger.
If you follow me on social media you may have noticed that I am currently on a roll of putting my Nixies and Sprixies in a brown and blue environment. Don't know where it is coming from but it makes me happy so I don't question it and go with it.
There is a big stor that I wanted to tell through this painting… and failed. But I am not giving it up yet. I put her aside, and see her everytime I go in the Teal Studio. It will come to me in a better way eventually. trust trust trust.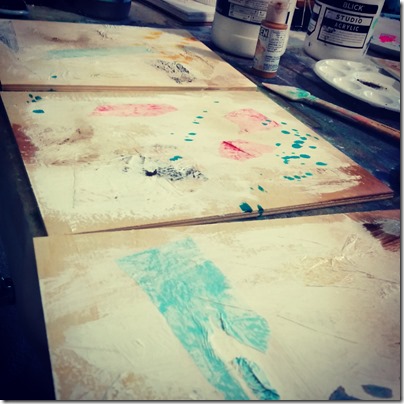 I decided to finally go through my way too big stash of scrapbooking paper and use it as my first layers again.
I work usually by three. I love this number, 3. So I start three canvases simultaneously.
I also reorganized my stash of surfaces and it is now easier for me to pick what I need (one with wood, one with canvas and paper, one of more or less old canvases that needs to be covered up and repurposed and this one contains A LOT ! good thing I don't mind anymore covering up old to make new ;)).
I have new paintings in the shop that will be released very soon. If you follow me on Instagram or on Facebook, you can see what I'm up to day to day 🙂
I am also working hard with my husband to get my classroom ready in the next few days, and hope for opening the registrations next week. Woot Woot ! I hope you will like this mini class, called *Soul Deck*.
I'd love to know, what are you creatively up to right now ?