This year has seen me stretch my wings in my creative practice. I decided that 2015 would be the year I would devote Heart and Soul into my art, wherever this would lead me. And oh… the places I went in the past 12 months !
In this blogpost, I wanted to share with you my favorite creative projects.
Since last September, I have been member of the Video Design Team for ColourArte, and therefore you have probably discovered two projects a month from me, showcasing their amazing paints. I loved the brand before, and this is exactly what I need to push my edges further and further.
My *Soul Whispers*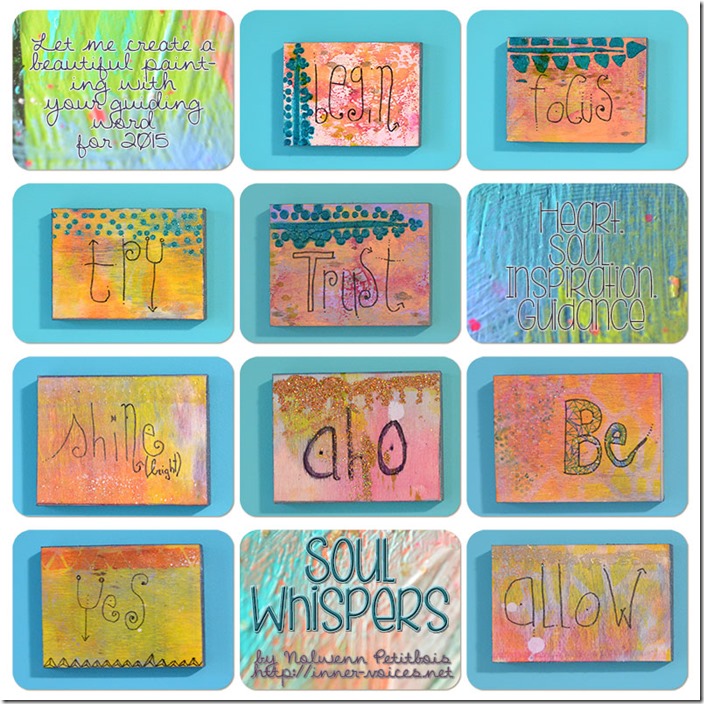 A year ago, I launched my Soul Whispers: mini paintings showcasing your guiding word for 2015. I believe in the power of words, as much as images do, in their own way. Marrying them with colors and glitters, they become powerful talismans. And my Soul Whispers are small enough to fit in the tiniest places you would need them to be. Made on cradle wood, they can by hung or stand on their own.
It has been a pleasure to bring them to life, to give them some bling and good energy before they could leave for their new homes. I had beautiful words picked, such as Synergy or Tenacious. I loved creative each of them. And can't wait to create one just for me for 2016 (and why not yours ?).
*Stronger*, a Nixie to honour breast cancer awareness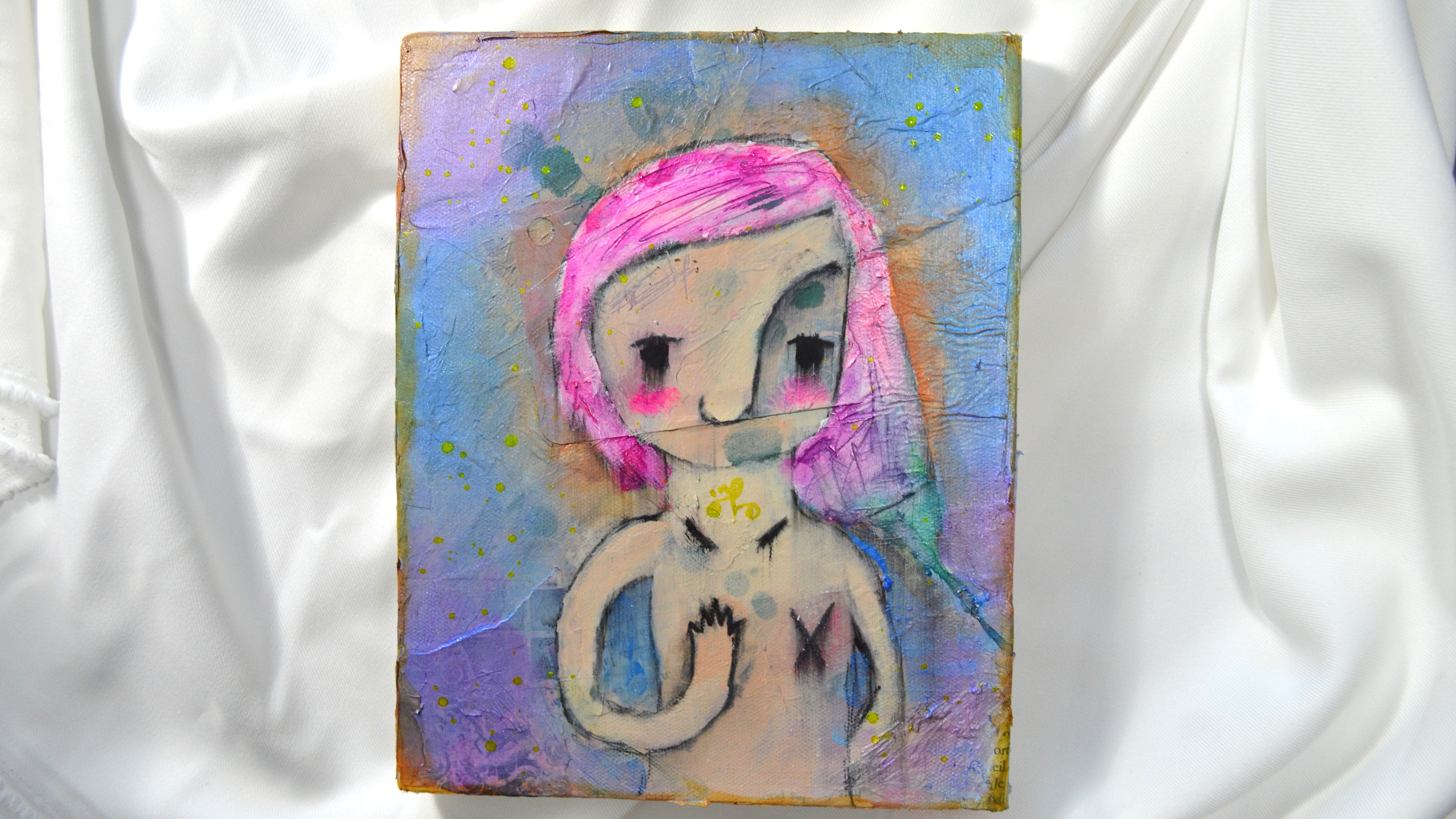 Last October, I painted this Nixie for one of my video projects for ColourArte. It was very important to me to create something to honour this battle so many people (not only women) fight all over the globe, and I kept the women in my heart very close as she was emerging in front of me.
I think that what we create needs to mean something to us, or at least I know I could not move on otherwise, because this is who I am. I am not always good at saying things, but I can show them…
*Medea*, the nurturer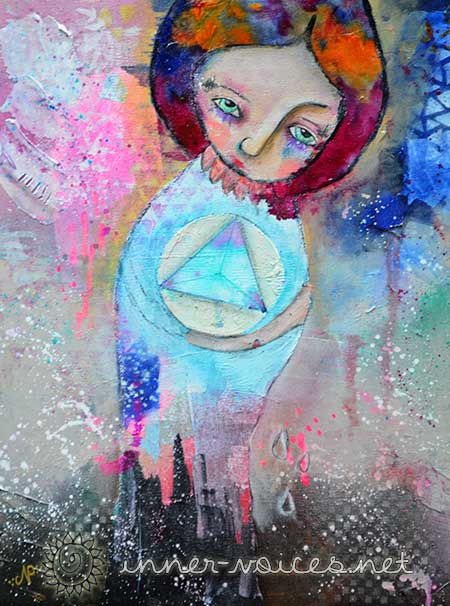 Medea is one of the big Nixies I started just for me this year. I noticed how I needed to explore more. Yes, going back to the techniques I love the most and the ones right in the center of my comfort zone… but with an open mind. Again: to ease the self-imposed pressure. And going bigger in my surfaces choice helped with it.
*The Three Sisters*, how they sometimes make a whole when together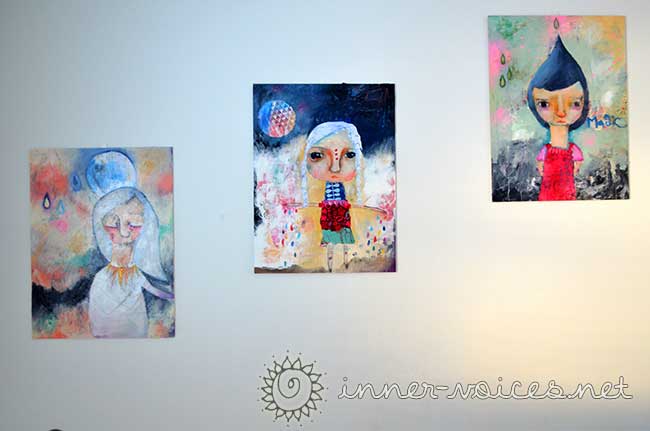 This picture does not do them justice at.all ! But they are on our wall and tall, so it makes it difficult to capture them properly. I wish you could see the textures and subtle elements that are impossible to see here…
I love working on series. But for these three Nixies, there were not intended to create something when together. However, once the third one was finished, it was obvious to me that they belonged together, and that they could not be sold.
They are now hanging in the entry of our home, by the stairs that leads to our kitchen space. My computer is near it, so they watch over me every time I work on it.
Each brought to me strength, perseverance and the power to surrender to what is meant to be.
*Reiko*, to go beyond what is seen and known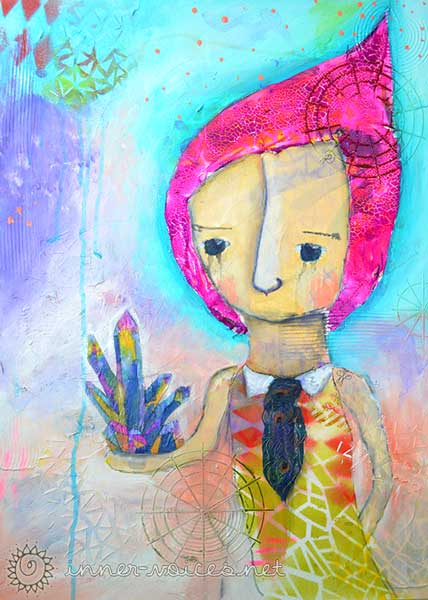 oh Reiko…. she sold very quickly and I am glad she will be in a new home, even though I love her so so SO much and would not have minded keeping her with me for a little longer.
She is another biggies, 18×24″, lots of layers compose her, and I got to play and experiment. Her hair is made with crackle media paired with the beautiful Primary Elements powder from ColourArte, it is duo-tone and shimmery, SO perfect. I love how it turned out.
I really wanted her to hold a cluster of Titanium Aura Quartz but I kept pushing doing it away, so scared of messing it up that I was…
(I will post about her in a more details blogpost next week).
I am very curious: which of my creation(s) did you prefer this year ?