… and go get it ! I don't know why but I'm not that much in the mood of long sentences of prose to share today, but still want to be here, hoping someone is still around for it, for me. I have so so many dreams, tiny ones and HUGE ones.
I am so happy to share with you my thoughts on Danielle Laporte's 2017 Daily Planner. It is a big baby, definetely not one you can keep in your handbag for reference at all time (except if your handbag is a mini suitcase, then… yes).
I talked about the planner in a previous blogpost, but did not have it in my hands yet. This is why it was important to me to add to it with a video.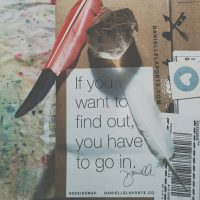 First… packaging ! It arrived in a box that had this sticker on it saying "If you want to find out, you have to go in" and I was thinking that it made sense with opening a box BUT could be applied in life too, don't you think ?
There was some clear tape with Danielle's logo to seal it shut. As a selling artist, packaging is very important. The care and thought put into it does matter. And I was blown away.
Inside… the planner was wrapped in a gorgeous tissue paper printed with the same logo as the tape (let me tell you: I kept it for collage material, to use in my art journal or in some paintings).
This is the perfect tool if you want to align your feelings, your spirituality, your business and your life.
And just for fun, here are some things that my Heart currently desires:
Clarity
Patience
An operative new home Studio (baptised The Art Cave)
Attracting the people who need my paintings
New jewelry (bracelets)
Connection(s)
Local friends to hang out with
Date nights with my husband (like me+him time if you know what I mean)
Blonde curly hair
I am curious: do you use a planner or a planning tool ? How do you stay on point and organized ?