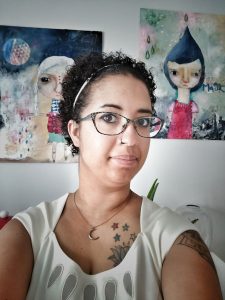 Happy birthday to me 🙂 I love celebrating birthdays. Not just my own, but my loved ones' too. Celebrating birthdays is part of my love language, one day each year I show how big and deep my love is. But I am a Virgo and it means that I usually have too high expectations (oops).
This year somehow feels different than the 31 previous ones. I can't explain yet how come. Maybe it is because of the New Moon or maybe because I decided to stop giving a shit for what I should only let go.
I am quirky. I am not your average "well in all aspects" mom. I am unperfect. I am paradoxical. I am too much and not enough. I am creative. I am a blank canvas. I am a storyteller. I am not broken. I am a neverending dreamer. I am a daughter of the Moon. I am deeply passionate. I will love you as no one had loved you before. I am the stories yet to be written. I am fucked up. I am the Light and the Darkness combined.

I am so much more than what words could convey. I am in pain everyday in a body that fails me, but I refuse to let it define me.
32. Now is the time to stop being apologetic. Forever.
As Kesha is singing "Don't let the bastards get you down" while I am writing down these thoughts on being you, I take it as the Universe telling me I am finally on the right path. For so long, I let others tell me who to be. How to behave. That I should not cry, be stronger, stop complaining. I will dress however I feel like, put colors in my hair, storylines on my skin. As I said before: being someone else is exhausting, so why don't I just be who I know I am ?
This sums up everything:
And to leave you on a beautiful musical note: