That's right, I'm a murderer… I am holding back tears.
I should have known today was not the good day to re-bind my Art Journal as the ernergy around me was not the same as usual. But i'm stubborn and wanted to finally reinforce my journal that was falling apart.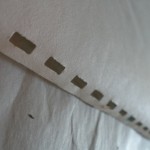 When I started Creative Journaling two years ago, I simply bought a pack of paper that are a little bit stronger than regular printer paper, and went to a small store in downtown Toulouse to bind it. So until today, it was bound thanks to a plastic thing, with a clear "plastic" transparent sheet as front and back covers.
But as I was filling it, it became heavier and thicker, so it was more and more fragile; so what was meant to happen happened a few weeks ago: the back cover fell off completely !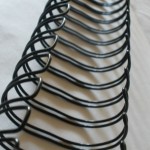 Since I have a bind-it-all machine and the holes look the same, I thought "no problem, I'll rebind it with my bind-it-all, it'll just take a few minutes".
PFFFFFF ! it does not fit… the pages curl when I put the wire in it, it means the spaces are not the same.
So now, all my pages (about 100 something pages !!!!!!) are "free", nothing is binding them together anymore. And I realized that a lot of pages have several holes that are nearly torn.
Currently, it looks like this: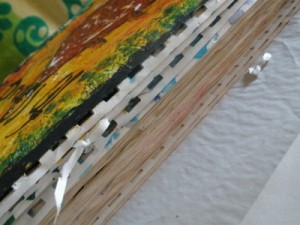 As this journal is a reflection of my Journey, the order of the pages is kind of important to me.
I thought… maybe I can use ribbons in some of the holes ? but I won't be able to turn the pages easily.
Or maybe some Rings ?
I'm holding back tears, trying to think "you'll find a way to fix this mess you did", but this journal is so precious to my heart that I could slap myself 🙁
Any suggestion is welcome, I am sure it's not as bad as I think it is. Right ?