Kyra is starting a new Art Journal Challenge on her blog, exciting !! For this first week, she asked us to chose one of the awesome artists featured in Connie's summer project 30 Journals 30 Days and to create a page based on this artist. Not this easy, indeed.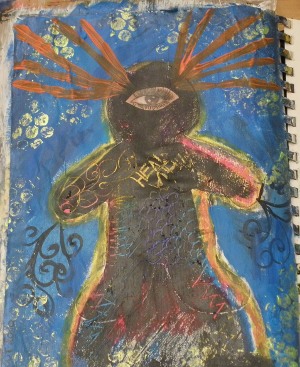 I did it ! I took some time to spread some LOVE in my Art Journal before going to sleep yesterday night… I had kind of a block, didn't know what to do even if I knew who I wanted to chose.
This project really pimped me all July long. I discovered a lot of new artists, and some really inspired me. Karin Baltimole is one of them.
I decided to get the idea of her Target Practice paintings, I used as a base a "gingerbread" shape bought at a craft store, at the kids section. Then I covered it with oil pastels that I covered with a thin layer of black acrylic paint that I scrapped with a palette knife.
I just let it go, without knowing what will come next. And it felt good.
I'm not so satisfied with the result but I am learning to detach myself from my pages.
Here are some close-ups: