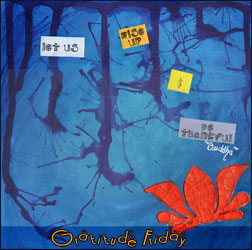 Gratitude Friday is a weekly ritual I started in order to focus on all the small and big positive things that happened during my week. I invite you to join me, you'll see how much being thankful can change your life. If you want to know more about it, read my introduction post.
Hello !
I'm so happy to read your comments and your own Gratitude Friday, to know that it helps you at the end of the week to focus on what matters the most: staying positive in all situations and learning to look at things differently. I'm so blessed and happy.
This week, I am thankful for the inspiration swirling in my mind. I am fighting the thought crawling that whispers "it won't last, so take the most of it now !" because I am one of those who believe that we have an unlimited access to a kind of "higher source" of Inspiration, and that we can tap in it everytime, it won't fade out. Just have to learn how to stay in touch with it.
I am thankful for the love all around, and the support.
I am thankful for the work the "after school care" work, they're awesome ! They planned a role game like "cluedo" for the kids today, to celebrate Halloween.
I am very grateful for the person who puchase a Goddess Circle Membership through my affiliate link. I love promoting other artists's work and Leonie is offering this amazing opportunity for pretty cheap: it's one of the best investment possible (in my opinion) ! That's why I spread the word for Leonie and Kelly Rae Roberts (see the section in my right sidebar =====>); and I am thankful that they both offer the possibility to earn some money for the help.
For the insight given to me by my Sisters in the Circe's Circle; I love the energy here, and that we all help each other as we can. Having the point of view from the outside is very helpful.
For this painting that I finished (click to enlarge and have a better view). I think it the one I love the most, it brings a sense of accomplishment in my heart despite the fact it's totally out of my usual colour palette, even the face is different but still "my style". It's hard to let her go in a new home. I have to set a price and put her for sale. I need to sell my artwork, it can't stay in a closet forever, they're meant to be shared and loved.
Thank you it's friday !! I'm very tired, like all my energy (physical and spiritual) had been drained out of me. It's Samhain on Sunday so I'll be busy but now that my daughters are older, they'll help me in the kitchen 😀
I wish I could afford my fellow Vancouverite artist Vivienne in her self-portrait workshop You are your own muse. I know all the love she put in it and it's right what I need but I spend too much money in others' workshops, I have to earn money before spending some more (says my husband) 🙁 Today is your last chance to sign up !
I wish you all a happy Trick or Treating this week-end, have fun, honour your ancestors, make room for the new year and let go off the old.
If you wrote your Gratitude Friday on your blog, don't forget to enter your NAME and URL below so I'm notified and can come to read you (you can also join by commenting this post):
[linkme]