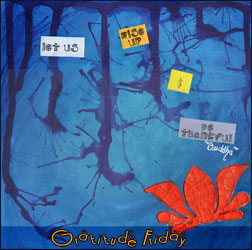 Gratitude Friday is a weekly ritual I started in order to focus on all the small and big positive things that happened during my week. I invite you to join me, you'll see how much being thankful can change your life. If you want to know more about it, read my introduction post.
Gosh I'm happy this week is over ! It was a rough one and for once, I really struggled seeing the light in all these doubts and anxiety that filled me. I cried a river of painful tears, tears are good because at least, the emotions don't stay inside of me.
This week, I feel blessed for this Darkness because it allows me to discover some new sides of myself. Thank you Jamie for bringing new insights I wasn't able to see because caught up in it from head to toes. Thank you to my Circe's Sister for the love the send me and lightened my heart in an unexpected way.
I'm thankful for my 5yo daughter Grenouille (no, it's not her first name, don't worry ;)) because she does her best to improve herself, because she's wonderful and lovely and cute and smart and beautiful as much inside as out. Thank you for thursday's junk food dinner we had all together, full of laughters and fun. What it should always be.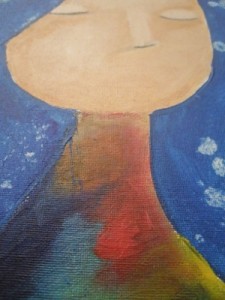 Thank you for the new painting I'm working on. I'm really really loving it and am very pleased by the turn it's taking. Following the flow without overthinking the result.
Thanks again and again for the beautiful days we have in Vancouver. If it could be like this during all Fall season, I'll be the happiest in the city.
Thanks A. at the school's after school care who is awesome. The coincidence of life makes that we were in the secondary schools located on the same street in France, but not at the same time. Thanks to her for loving Grenouille so much, she needs it and we do too.
I am thankful for the kindness and the love my younger daughter Koala brings me everyday. All her hugs and kisses and "I love you mama" just warm up my heart when I need it the most.
I realized on Thursday that I don't have to be affraid of being helpless sometimes and to tell it (as long as I don't complain and stay in this state without fighting) because people's outside point of view can make all the difference. What I see as a useless moment takes a totally different meaning when I'm told "it was a tough conversation you had with yourself but you realized who you are [as an artist]; it's not nothing."
Thank you to the Ladies on twitter who just AMAZED me by the encouragment words regarding my recent breakthrough, I never thought of a response like this to this tweet.
If you wrote your Gratitude Friday on your blog, don't forget to enter your NAME and URL below so I'm notified and can come to read you (you can also join by commenting this post):
[linkme]