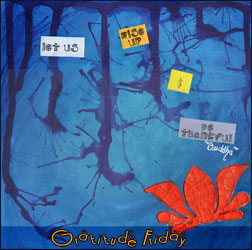 Gratitude Friday is a weekly ritual I started in order to focus on all the small and big positive things that happened during my week. I invite you to join me, you'll see how much being thankful can change your life. If you want to know more about it, read my introduction post.
This week was full of lessons and learnings. By the way, I wonder why I always have to learn things the hard way. I'm very emotionnal this week, I don't know if today's Full Harvest Moon is messing with me but aaaaaaaaaaaah (sound of a deep sigh).
But it's in these kind of harsh moments that I count my blessings and see that all my past, even the most painful events, is what makes me… me. And hooray ! Today I got a new idea regarding my book project. It may make it easier, or not. But more cohesive for sure.
This week's Gratitude Friday is hard to write. Not because I don't see what to be thankful for, but because for unknown reasons, I don't "want" to write here, in the blog. I do have lots of things I want to share, I want to show you, I want your input on. But I don't know,
I know that some of you are facing a kind of block. Not finding what is making the joy of your life. But remember: your Gratitude list doesn't have to be long. It doesn't have to be full. Just listen to this little voice that makes your heart sing. What does she tell you ?
This week, I'm grateful for aAron's new album, Birds in the storm. Not all the songs are good, but I was waiting for this album for years now.
Thank you for the inspiration striking me. Beautiful ideas are taking shape on canvas. I don't work as much as I would like, but I still don't have an art studio so it's hard to be organized. I enjoy every minute of the creating process, from the idea sprouting in my mind to the sketching to the final artwork.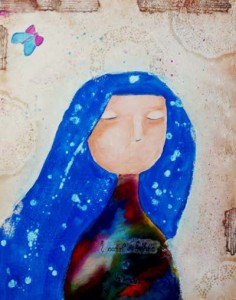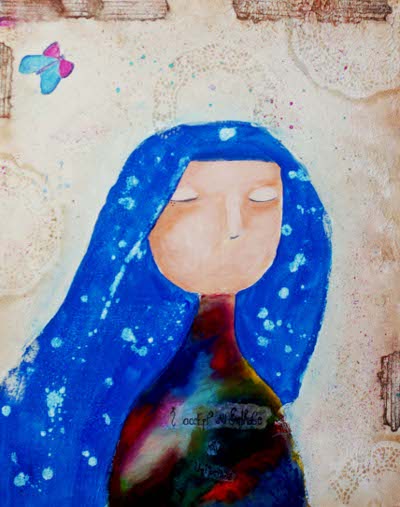 Thank you for all the messages I received about the latest artwork I shared on my RedBubble page (I still have to share it here more precisely). It's not perfect, I still have to work on the face shading. But the message is there, and I love love love it. You can't really see it on the picture above but it says "I accept and embrace my Uniqueness".
You can buy prints (laminated, canvas print, simple print), cards etc of it. I had really good feedback on the quality and service by one of the sweet heart who bought some of my art there. It's a cheap and easy way to have my artwork in your home.
Thank you for the friends who are in my life for many years now. We went through storms together, but the link between us is still strong despite everything. It's important to me to celebrate it. Thank you for being by my side no matter what.
Thank you for the Love I receive, in every kind of way possible.
If you wrote your Gratitude Friday on your blog, don't forget to enter your NAME and URL below so I'm notified and can come to read you (you can also join by commenting this post):
[linkme]