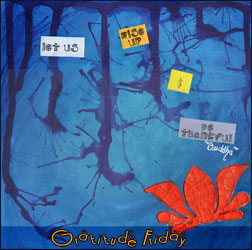 Gratitude Friday is a weekly ritual I started in order to focus on all the small and big positive things that happened during my week. I invite you to join me, you'll see how much being thankful can change your life. If you want to know more about it, read my introduction post.
8 days… only a little small tiny week until Christmas. I can't believe 2010 is really at its end. It seems like yesterday I was entering the year, but no.
How do you feel about it ?
It's important to me to review my year and deeply feel all that happened that bring this profound feeling of Gratitude. I won't do that today, we still have a few weeks before 2011 arrives. But I am already planning what i want it to look like, what my word for the year is etc.
This week, I am thankful for my neighbour who will take care of the kids for a few hours tomorrow, so we can finally go Christmas shopping. It's harder this year than last year because Koala is not at the same preschool and so she is a lot more with me than last year.
I am also blessed with the gift of having a date night with my husband next week. The mom of one of Koala's friend offered us to take the girls at her home so they'll make pizze, biscuits and have fun while mama & papa have some hours just together. It didn't happen since my mom came to visit us in June. But what will we do with ourselves ? it's the question 😉 The girls will be with Koala's friends R. and N. (another friend from preschool whom parents will have a date night lol), and J. the mom who is awesome. We don't have any family here, so we never have time together without the kids (the week-ends' naps do not count).
I am thankful because, hopefully, my blog will have a brand new look soon. I love this one that is unique but it corresponds a lot to my Magical me, not to my Artist me. Both are linked together but I focus here on sharing about my art 😉 So it has to change to reflect that.
I am thankful for books I read. My world has always been filled with books. I wish I had more space for them. One day, in our house, we'll have a full wall of books.
I am grateful for the ideas that are sparking my mind. I hope I'll make great things.
Don't forget, you can buy my inspiration "You are…" calendar for monthly reminders of how wonderful you are. It is right there: click.
I hope you'll make this gift to yourself for the new year, or to this special someone you love.
If you wrote your Gratitude Friday on your blog, don't forget to enter your NAME and URL below so I'm notified and can come to read you (you can also join by commenting this post):
[linkme]