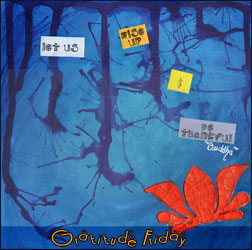 Gratitude Friday is a weekly ritual I started in order to focus on all the small and big positive things that happened during my week. I invite you to join me, you'll see how much being thankful can change your life. If you want to know more about it, read my introduction post.
Hello on this beautiful day !
I know it's already 3:30pm (PST) and you may have thought "where the H*** is Nolwenn's Gratitude Friday blogpost ???" (or not, too busy planning Christmas Eve, don't worry: I won't blame you). I really hope that you're not too stressed out and just having fun. Wether you're on your own (and can do whatever pleases you without thinking of anyone else, yeaaah !), or with the people you love.
This week, I am grateful for the date night I had with my husband yesterday while our girls were having fun over one of Koala's preschool friend.
I am grateful for my friend Lynna, that I met thanks to Art Journal Love Letter, the workshop by Connie. We both live in the same city but didn't have the chance to meet for real yet. She's always been supportive and I'm blessed to have her around.
I am grateful to have my daughters and husband to spread Christmas magic around today.
I am happy because I have found a secret surprise gift for my husband to put under the tree (sssssh don't tell him !).
I am thankful for all I have accomplished this year, even if I didn't achieved the goals I set one year ago. I am okay with this fact.
I think of all my close family and friends, all over the World. Some are sleeping, Santa already came. I miss you, and I love you.
I hope you are happy. Don't forget: you are not alone, even in times when you may feel so.
And today is also special because Connie Hozvicka put my guest post about how FEARLESS painting changed everything in her blog, over at Dirty Footprints Studio. It is right there. I hope you'll enjoy.
If you wrote your Gratitude Friday on your blog, don't forget to enter your NAME and URL below so I'm notified and can come to read you (you can also join by commenting this post):
[linkme]