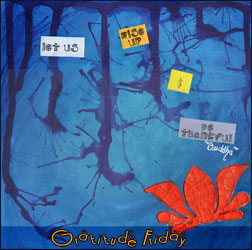 Gratitude Friday is a weekly ritual I started in order to focus on all the small and big positive things that happened during my week. I invite you to join me, you'll see how much being thankful can change your life. If you want to know more about it, read my introduction post.
Hello beautiful You !
How was your week ? I hope your not lost under a mountain of snow and that you are safe where you are in the World.
How are you doing ? Do you manage to shift your way of seeing what you experience and see more easily what's positive in it ? If not, don't worry. Stick to your Gratitude Practice and it will come.
A very good way of learning how to receive and be more aware of the gifts sent by the Universe (in so many ways !), is to sign up for my friend Jo Anna's project called "The Receiving Project". It's totally free and it changed my life in 2010 (and still now). Go check it out.
This week, I am thankful for:
The new artwork I created. It is powerful (for me at least), it helped me in my healing process. You'll know everything about it tomorrow.
All the new creative opportunities that are flying my way all at the same time. I'm just in awe. It will be amazing !!
For the support of online friends.
Friends sharing with me their love for the tv show Fringe 😀
Email giving me some long awaited news.
The warmth of our home.
The snow we had, even just for a day.
The book I'm currently reading,

Matched

, by Allie Condy. I try not to think how long I'll have to wait for the two sequels…
I'm slowly but surely losing some weight.
Suzie Ridler's awesome roll bread recipe. I made it twice this week (without the thyme), it's just so yummy and easy to do thanks to my bread machine.
Don't give up.
If you wrote your Gratitude Friday on your blog, don't forget to enter your NAME and URL below so I'm notified and can come to read you (you can also join by commenting this post):
[linkme]