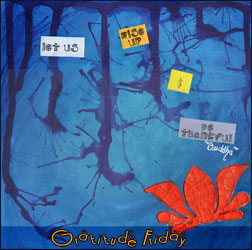 Gratitude Friday is a weekly ritual I started in order to focus on all the small and big positive things that happened during my week. I invite you to join me, you'll see how much being thankful can change your life. If you want to know more about it, read my introduction post.
Hello !
March is already there. March !!! In a few weeks, my baby Koal will be celebrating her 4th birthday. And Spring will officially be there…
This week, I am grateful for:
This big canvas I am currently creating on, not a size i am used to but perfect for what I am doing on it.
My new personal project, that already shows some changes inside myself (!).
British singer Adele's songs, that I am listening to in repeat mode this week. Especially the songs "Lovesong" "Someone like you" "He won't go" & "Rolling in the deep".
Today is Friday AND payday for my husband.
I won a spot on Traci Bautista's online class called "Discovering Y.O.U." about discovering how to market our art business (and more, I simplify it).
For the first time this morning in about two weeks, I woke up headache free !
I am still losing weight.
The Universe is with me; I feel listened to and supported.
And don't forget about my book giveaway, still open to participations for a few days. You can win the latest book of Marianne Williamson titled "A course in weight loss, 21 spiritual lessons to surrendering your weight forever".
If you wrote your Gratitude Friday on your blog, don't forget to enter your NAME and URL below so I'm notified and can come to read you (you can also join by commenting this post):
[linkme]