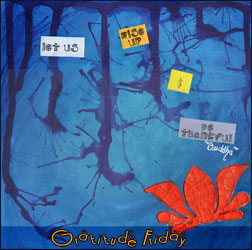 Gratitude Friday is a weekly ritual I started in order to focus on all the small and big positive things that happened during my week. I invite you to join me, you'll see how much being thankful can change your life. If you want to know more about it, read my introduction post.
Hello !
WHAT.A.WEEK !!! Amazing…
This week my heart is so full of Gratitude that I feel like it could explode right now. But it won't, and could even take some more goodness.
Sharing some of the best (would be too long if I was sharing everything):
I finally took the leap and opened my Etsy Shop. Thank you for all of you who supported me along the way, for months, and now that it is opened. Do not forget you can win a handmade journal (made by yours truly) by helping me to spread the love.
I sold two prints.
I was including in this amazing Treasury created by Aimee from Artsyville: Mix it up.
Yesterday (Thursday) was just an amazing day. Spent some time alone with my husband (which never ever happens since we live in Vancouver); bought some presents for Koala's 4th birthday, had fun at afterschool thing with Grenouille…
We are reorganizing my tiny corner of the sunroom where I stock my art supply and had very good deals at Ikea yesterday.
Money is coming in ! Positive Affirmations DO work for me.
I received all the packages I was waiting for the same day.
I love working in my new Art Journals. I will make more and put them for sale so you can love them too.
I found a huge notebook (11″x14″) to create my dreamboards and maps in it. For only $16.50 (way less than the giant Moleskine). Love me some Opus Framing Art Supply in Granville Island.
Donna Downey is doing an «Inspiration Week»: everyday of this week she is recording herself working in a journal. This is just fantastic !
I am just happy to be living the life I have right now. Dreaming big, taking steps forward, sharing.
I hope you will share with me what made you happy this week. I know a lot of you experienced hard times lately, so maybe this would help.
Take care.
If you wrote your Gratitude Friday on your blog, don't forget to enter your NAME and URL below so I'm notified and can come to read you (you can also join by commenting this post):
[linkme]