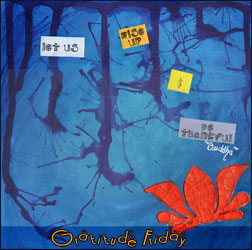 Gratitude Friday is a weekly ritual I started in order to focus on all the small and big positive things that happened during my week. I invite you to join me, you'll see how much being thankful can change your life. If you want to know more about it, read my introduction post.
Hello !
No, I didn't wake up at 2am last night to watch the royal Wedding. So I am fresh today and happy to write this Gratitude Friday, especially since I haven't wrote it publicly for two weeks in a row. Oops.
This week is nearly over, I am happy it is finally Friday though.
I am grateful for:
My Koala (my 4yo daughter) is healing fast from her accident. She cut open her forehead last saturday while we were visiting a house. She is now stiched up and healing.
Grenouille (my 5 ½ yo daughter) is gaining weight (her weight is a struggle so this is a very good new to us).
I was one of the 400 lucky who received a small goodie from the Smash brand. Exciting, it really looks an awesome thing. If you have no idea what I am talking about, check their blog: Smash Stories.
I also won a $25 gift card at Deserres, from a blog.
I signed up for two amazing workshop later this year, both happening at Teesha Moore's ArtFest Annex. The first one is «Little Journal of BIG Intentions» taught by Teesha herself. The other is a 2-day workshop by Flora Bowley in November. I wished so so hard that she will have a workshop closer to me, and then it happened… never be ashamed to cast some wishes. You never know how positively it can be granted.
My mom is doing really great and i am always hanging up from the phone more happier for her. Can't wait to see her and hug her at the end of the year.
I received amazing email from my Soul Sister, she always knows exactly what to say to me.
This painting is almost done and makes me swoon. I am experimenting new techniques and love some of them. Getting back on the horse of creativity after a hard 2 weeks of neverending questioning.
I love playing in my Art Journal again. It is my safe place, where I can vent and dream at the same time.
I received a lot of support regarding my fear of recording me speaking to put over my next Art Journal video. Speaking in english, in front of everyone (if I can say so) paralyzes me. But I will do it, I have to figure out some sound issue.
My new eating habits make me happy, I feel better in my body, I am losing weight AND I eat good stuff.
You can read my feature over Roots Of She this week: Creative Harvest. So honoured to be there.
I was also part of Kind Over Matter's «Seven Souls, One Musing».
I know how hard it is sometimes to find these specific happy moments when all seem so dark, so «I can't do anything about it». But give it a try. Make it simple. You can do it, I promise.
If you wrote your Gratitude Friday on your blog, don't forget to enter your NAME and URL below so I'm notified and can come to read you (you can also join by commenting this post):
[linkme]