YES ! I finally put one of my handmade Art Journal for sale in my ETSY shop.
This one belongs to the «sewn-over-tape» category, which I really love as the spine is beautifully exposed.
It is not perfectly perfect, but you can tell it is handmade for sure.
The cover is a piece of Mixed Media by itself, made with acrylic paint, ColorShots from LindyStampGang, watersoluble crayons and more.
The paper I use is sturdy, it is the Fabriano Medioevalis paper. I love the grungy feels of the torn paper edges and above all it allows you to play with acrylic paint, watercolour, collage or whatever you love to do in your own Art Journal.
This is the paper I currently have in my own journal and it never bleeded through.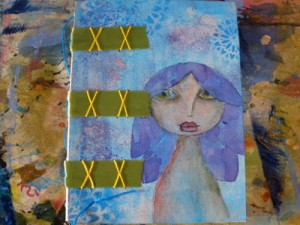 You have the possibility to add your own title at no charge.
If not, i will add «I have the power to create» before shipping it to you, simply because this is the words I heard while I was creating the journal.
A few more pictures (click on it to enlarge):