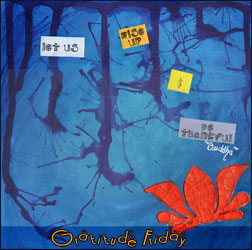 Gratitude Friday is a weekly ritual I started in order to focus on all the small and big positive things that happened during my week. I invite you to join me, you'll see how much being thankful can change your life. If you want to know more about it, read my introduction post.
Hello Beautifulzzz !
Friday again, I am happy to see this one coming. Had a pretty crappy week but some highlights.
I learn to embrace the negativity that comes my way here and there because it teaches me, because it makes me stronger (or at least it seems so), because I appreciate even more what I have thanks to it.
This week, I am thankful for:
The busy-ness. I love being busy.
We were called yesterday afternoon by Grenouille's agent (it seems like a big word) because she was wanted to a casting. We went and she really enjoyed the process. Wait and see now. I am happy because we (her dad and I) hadn't over done it, she was dressed casually, I did a pretty braid in her hair but nothing more, she was just herself… compared to the little girls in tutus with make-up sometimes we meet, I am happy we didn't do that to her. She had fun and it is all that matters to me.
We received a package from my in-laws, with clothes for the girls and food for us. Koala has finally a ballerina-like dress she can't stop wearing (she would sleep in it if I'd allow her heeeee).
My husband was a bit sick on tuesday so we spent the morning together.
Had our semestrial dentist appointment, no cavities. YAAAY ! i am good for another 6 months.
We're having a pic-nic at Granville Island with Koala's preschool tonight.
I finished my Art Journal and have a pretty one to begin anew in (will talk about it tomorrow and will record the flip-through soon).
I was attacked by an intense headache coming along with strong nausea, but my daughter was very nice with me as I came back to bed trying to sleep.
I am going to the hairsalon tomorrow. I am pretty nervous but excited to change my hairdo. Lice can have positive effect as without this shit, I would have waited longer.
I started a 4-week teleclass to become a Certified Vision Board Counselor. I signed up for the home study last year but have not commited to it. Now is the time for me to do it and do it well.
My husband and I talked a lot about our future and made some pretty big decisions.
We are heading to Seattle on sunday to see the Sketchbook Project where my sketchbook is. If you participated in the 2011 edition, let me a comment so I will be able to check yours 😀
I know this week was emotionally draining for me, and not only me. Try to think of all these things that made you smile and to focus on them <3
If you wrote your Gratitude Friday on your blog, don't forget to enter your NAME and URL below so I'm notified and can come to read you (you can also join by commenting this post):
[linkme]