Heya !
I hope your week-end was wonderful. We spent our Sunday in sunny Seattle so I could attend the last day of the exhibit stop of the Sketchbook Project 2011.
I signed up last year after seeing lots of my artsy friends enrolling and thought that having a goal and a deadline would be a change I was willing to try. It was really motivating to share this with friends, encouraging each other along the way, sharing the blocks we were facing here and there on the road to finish it and sending it back to Brooklyn.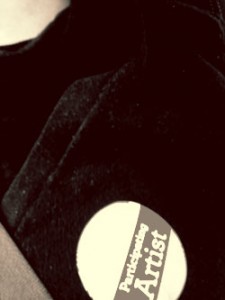 It was an amazing experience. Even if I had loooong periods of doubts, wondering why the hell did I sign up for such a big project, or if I will have enough inspiration to fill all the pages (I ended up glueing most of them together).
I knew a long time ago that the tour will come in Seattle for 3 afternoons and we planned to come down there months ago. But of course, I DID forget about it and the week-end got packed with invitations and stuff to do. My husband is the bestest (as you know now, lol) and agreed to cancel all we got scheduled for Sunday and spend the day in Seattle.
When we passed by the address on the street, I could not believe my eyes: there was such a long queue of people waiting on the sidewalk !!!
The space where the sketchbooks were was tiny so it was impossible to stay in (so happy it was a sunny day… which is as rare in Seattle than it is in Vancouver).
Unfortunately, I was able to check only 6 sketchbooks as the queue was forever growing. I was able to see the journals of Lisa Wilson and Carmen Hirkala: A-MA-ZING ♥♡♥♡♥
Here is how it works:
When you are a participating artist, you receive a art-house library card so you can go to the exhibit, if you are a "visitor" you have to create one on site (it only takes like 20 seconds to do so). Thanks to it, they know which sketchbooks you took and if the artist chose so s/he will be notified by email that X browsed through his/her sketchbook in which city.
When you finally arrive inside, some nice people from Art-House are with their computers and you have two choices: you select one of the themes and they give you 2 random sketchbooks from it, or you can look for a special artist to look (and then they will give you another book of the same theme to look at). Know that you can only see 2 sketchbooks at a time, and they have to belong to the same category. You can take the time you want BUT you have to stay there (obviously).
What happened is that most people went back in the queue directly so they could see the sketchbooks while waiting to return them and check some more.
I was able to eye some of the already checked sketchbooks while waiting and loved what I saw. So many different styles and approaches. People DARED to do it their way. I wish I had. Some totally re-bound the journal and it was visually strikingly beautiful and sometimes more than original.
People looked very happy to be there, to discover artists' work and universes, talking to others. I saw children, people from the artistic industry, crafters, old people, men, women. AMAZING !
Some pictures for you to enjoy (click to enlarge):
I did 2 videos back then to show you my experience, the first is the cover and the second one is the flip-through the finished journal. I will update the post when I'll have the link to my digitalized sketchbook. Here it is:
So… after talking a bit with my husband (not that I need his approval but I love having his input regarding my stuff), I decided to sign-up for the 2012 edition. First of all, the tour is going international ! They'll come in our city (Vancouver), in Toronto, in Australia in and England. And I am stronger as it will be the second time. Apparently they changed the journal (It won't be a Moleskine anymore) for something with a better green impact and a better paper (mucho artists complained about the very thin paper). BUT I think a will create a journal on my own (it is not against the rules, as long as it respects the size measurements of the journal they send us).
If you want to know more about it, it's right here.
Which ones of you participated in one of the previous editions ? How was it ? Have you signed up for the 2012 one ? Would love to know the theme you chose 🙂