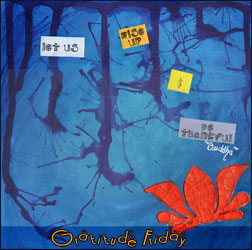 Gratitude Friday is a weekly ritual I started in order to focus on all the small and big positive things that happened during my week. I invite you to join me, you'll see how much being thankful can change your life. If you want to know more about it, read my introduction post.
Hello !
Long time no see, I know. I feel a bit guilty for not having published my Gratitude Friday last week but I would have really forced it and it would not have been honest so I prefered silence.
This week, I am thankful for (in the most complete disorder):
The free 52 MOO stickers I ordered thanks to my friend Melissa. Really good deal as I did not even pay any shipping ! I ordered new business cards from them a few days ago. It's been a long time since my last order (before this week), but I really enjoy their products.
Creativity and Inspiration are in full mode.
Canada Post is back to work. That means the order I had waiting was finally shipped and I can now send and receive snail mail again.
I finished my first comissionned artwork. I really like it but I won't lie: I am nervous about what my customer will feel about it (especially since she wants the surprise about the final piece, and just saw the face of the girl).
I will do my best to join the new «30 days» by Traci Bunkers happening in July. It is simple: GET YOUR ART ON, create something everyday for 30 consecutive days. I will share more about my own rules soon.
New project with my Trollettes for the summer vacation: we will cook together everyday. It will keep them busy, interested in the food process, and maybe Grenouille will finally stop thinking eating is uninteresting and boring.
We started a TOP SECRET project together. And Koala is my little creative genius as she found a great painting technique, I'll make a video with them to show you (see how I try to find ways to work WITH them… ahlala being a SAHM of toddlers during summer vacations ! LOL).
I got a super idea. Like when it crossed my mind I thought «this is my 100,000 buck idea !» but now, fear is taking over and I have not done anything about it 🙁 It happened at night, it is always when I am interrupted in my sleep that the best ideas arrive.
I was in John Holland's radio show last Monday. Happy I followed my guts and called.
It seems like my improvised healing technique is working. To be developped and improved.
Goddess Leonie, just because she is the awesome her she is. I can't wait to finally have the money to join her Goddess Circle.
Summer Vacations are officially here for us. I can't believe this school year is ALREADY over ! Grenouille will be in Grade 1 and Koala in her last preschool year. They are both super excited (even if Koala wishes she could already be in kindergarten !). We have important choices to make regarding next school year for them and I have to confess I have no idea which possibility is best.
My mom will celebrate her 60th birthday in a few days, and then will have an important surgery. I wont be there for either of it and my heart is in million pieces.
If you wrote your Gratitude Friday on your blog, don't forget to enter your NAME and URL below so I'm notified and can come to read you (you can also join by commenting this post):
[linkme]