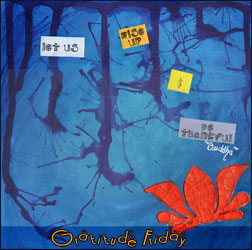 Gratitude Friday is a weekly ritual I started in order to focus on all the small and big positive things that happened during my week. I invite you to join me, you'll see how much being thankful can change your life. If you want to know more about it, read my introduction post.
Hello !
I have to say that the painkillers (that originally are meds for people suffering from convulsions… duh !) are helping quite a lot with the FMS pain. Not with the huge fatigue. But I can finally get some stuff done.
This week, I am thankful for:
The Medicine Bundles I finally received from Pixie Campbell. Not her fault, the first package she sent me back in mid-june never ever arrived to me. The Whale one is for me, she is one of my totems, the Beaver one is for my Mom.
The strength of my Mom; she is going through a lot of very bad stuff this week and she is the one telling me "everything is gonna be okay".
The support from my Tribe Sisters and from my friend Anu.
My new tattoo is just way better than in my dreams.
The meds are helping. Dreams were gone the first 3 nights but are back, I wish they would be happier though.
My girls are healthy and happy.
My husband loves me as much as I love him. Unconditionally.
I pour my heart in my paintings, and people seem to connect.
We handpicked some berries and I made 9 jars of marmelade. I have to do strawberries. Will get us through until next summer.
I cooked vegetables couscous (in Europe, "couscous" does not name the cereal but a meal, originated from North Africa) and it was very yummy. Will do it again.
An unexpected phone call.
I was able to fix to of my favourite pants, with my sewing machine, myself.
We are spending a few days in Seattle.
If you wrote your Gratitude Friday on your blog, don't forget to enter your NAME and URL below so I'm notified and can come to read you (you can also join by commenting this post):
[linkme]