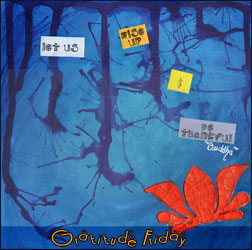 Gratitude Friday is a weekly ritual I started in order to focus on all the small and big positive things that happened during my week. I invite you to join me, you'll see how much being thankful can change your life. If you want to know more about it, read my introduction post.
Hello !
How is it going in your part of the World ? Here, it smells back-to-school, which makes all my family happy. We are not the types to cry when school is back, but to wait for it impatiently. It always were, for both our girls (especially for Grenouille, indeed). She will be a first grader, in a new school, while Koala will be in her last year of preschool (and can't wait to go to kindergarten !). Since I was little, my favorite thing in summer was August so we can start shopping for new school stuff, new notebooks, pens, glue, and most of all: agenda !!!
As I already told you, I attended a workshop with Teesha Moore a week ago (already) and I am still filled with inspiration it brought. Oh and don't forget the giveaway at the end of this blogpost, you could be the lucky winner of an amazing book !
This week, I am grateful for:
Stretching my creativity beyond my comfort zone.
Trespassing the big fear of putting my original paintings in my shop. On the two I listed, one is gone. You can see it right there. Pricing it correctly and then estimating the shipping fees are now, honestly, what is holding me back. Pricing too high, not enough, asking for $30 shipping to add to the bill… it makes me wanna curl up and not do it. BUT I know my artwork can resonate with people who would love to have it theirs, so I am doing it anyway, thinking of it.
Sunshine
Our little vacation in Seattle area. We spent a day at the zoo, which was amazing by the way, shopped…
I met Kym and Violette, finally.
Ladies at the workshop seemed to have loved my MOO business cards, I gave some of them and they looked really happy.
I am not listening to my body telling me «i am fucking tired right now. and in pain» because i would not do anything. I do pay the price, though. But at last I get work done…
I can't wait to get the new stencils by Julie Fei-Fan Balzer with The Crafter's workshop, that the shop Clipper Street specially ordered for me. Kim, who I dealt with, is very nice.
More people seem to find their way toward here, makes me happy and I hope they will come back.
I really feel like I have something important to share with the World. I just have to find out how to get there because there are so many other people with amazingly fantastic messages as well. I just want to be seen too.
The dulce de leche cheesecake from The Cheesecake Factory. Gosh this was soooo good ! Why isn't there a Cheesecake Factory in Vancouver ? Yes, right. because I try to manage my weight. Duh !
There is more but… just keep it short today.
A bit of eye candy until I post more properly about them:
Much love,
If you wrote your Gratitude Friday on your blog, don't forget to enter your NAME and URL below so I'm notified and can come to read you (you can also join by commenting this post):
[linkme]