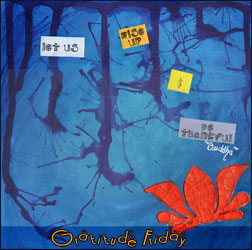 Gratitude Friday is a weekly ritual I started in order to focus on all the small and big positive things that happened during my week. I invite you to join me, you'll see how much being thankful can change your life. If you want to know more about it, read my introduction post.
Hello !
How was this week ? I know for a lot of you Moms out there it was back-to-school week. I hope all went well for you as for your kids (or not so kids anymore). For us, it will be in September, in just a bit more than 2 weeks from now. I love my kids but school time is much better for all of us than two months of vacation 😉 And the girls are soooo excited !
This week, I am thankful for:
My creative juice, still yummy and pouring on the canvas.
I finished my Art Journal and started (hmmm in fact, I just gesso-ed the first page but still) the #5. You can see the video right here if you haven't watched it yet. Feels good. A page is being turned, plenty of others are just wainting to be created, discovered, written.
I love my Mamounette (aka Mom), and she will be with us in 2 months from now. Despite all the crap happening, I know she will still be coming.
We received a package full of goodies from my family-in-law.
Words with friends can be funny, after all.
Rising Appalachia's music, I listened to it over and over all week.
The kindness of the ladies at the scrapbook store Clipper Street. Can't wait to play with my new stencils from Crafter's workshop.
I got a sale from my affiliation with Goddess Leonie. Thank you to you who made it through me. I know you will enjoy the Goddess Circle.
Teesha Moore is way more than an amazing inspiring artist.
Thank you to you, who come on my blog, and take the time to stay, read a bit, comment sometimes. It's okay if you don't leave a word too.
I received very nice comments on my Art journal video. It is always something that warms my heart.
I started writing daily again. Just venting, sorting things out.
My brother-in-law arrived to day for his vacations with us, he is the one who comes every single summer since the first year of our Canadian life (the first one, was 6 months after our arrival). He will be here for Grenouille's birthday. It means a lot to her.
If you wrote your Gratitude Friday on your blog, don't forget to enter your NAME and URL below so I'm notified and can come to read you (you can also join by commenting this post):
[linkme]