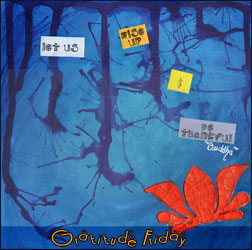 Gratitude Friday is a weekly ritual I started in order to focus on all the small and big positive things that happened during my week. I invite you to join me, you'll see how much being thankful can change your life. If you want to know more about it, read my introduction post.
Hello !
How was your week ? I hope that my fellow Canadians enjoyed their Thanksgiving week-end and did not have a food overdose 😉
My week was good, not that much in pain, same level of exhaustion but I guess I just have to go with it now, my husband was home both monday AND tuesday.
This week, I am grateful for:
The messages I receive from readers of this blog and on Facebook, telling me how they love this Gratitude Friday because it helps them.
The opportunity to teach.
The time passed with my Husband and the fantastic Thanksgiving week-end we had.
My friend Paola may be coming to see me with her family next week.
My aunt's help with my mom. And my mom now have her plane tickets to come here. She will arrive on Oct. 25, which is very soon from now. I am over the moon.
My mom got out of the hospital earlier than planned.
The fact that my husband supports me that much. I know how lucky I am.
Taking the actions so I can move forward in my life.
Having shared this silly picture of mine publicly.
If you wrote your Gratitude Friday on your blog, don't forget to enter your NAME and URL below so I'm notified and can come to read you (you can also join by commenting this post):
[linkme]