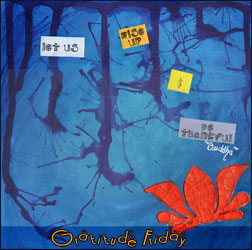 Gratitude Friday is a weekly ritual I started in order to focus on all the small and big positive things that happened during my week. I invite you to join me, you'll see how much being thankful can change your life. If you want to know more about it, read my introduction post.
Hello !
How are you doing this week ? Friday is almost halfway done here in Vancouver, it is a grey rainy day. Both my girls are sick, so they stay home (it was professional day at Grenouille's school so she had the day off anyway). I am happy the week-end is nearly here.
I can't deny it anymore, Fall is there now. I love this season but knowing that the rain saison is there too does not make me that happy. And despite the sunny days we still get, I feel like I am in lack of serious real Vitamin D.
This week, I am thankful for:
Practical Reiki and the fact that my daughters keep asking me to heal them with it when they have a booboo or a concern, my mom benefits a lot from it as well.
Good Fall days
Weight Watchers
The answers to my contest (here and on my francophone blog). You can still participate 🙂
Music. Always.
I finally have some encaustic medium. I used it on my latest painting and really love the look it gives. But now, I have to learn all the possibilities it offers.
This painting. Her name is Samsâra (I published a few pics of her on my Facebook page).
I decided to change the name of my Etsy shop. From InnerVoice (without an «S») to InnerWorlds. It still reflect my Universe and what I create and there won't be any confusion because of the typo anymore (InnerVoices was someone else).
Speculoos spread. You may wonder what the heck Speculoos is. Let me tell you: it's a biscuit from East of France and Belgium, full of delicious spices (I use it instead of the graham crackers when I bake cheesecake, let me tell you this is Heaven on Earth). They made a spread from it. YUM. BUT it is as addictive as Nutella is. Thank you Catherine !
Mamounette arrives in 4 days.
Halloween and Samhain are around the corner now.
I received my order from Art from the Heart, new paint and ink spray, gorgeous colors.
My iPhone (and I am not an Apple fanatic), even if it's only a 3GS and that I could use an upgraded version.
Cooking chef Michael Smith.
This big dream that is slowly taking form (if only I'd stop blocking myself).
My friend Aurore got the condo she wanted. She rocks the casbah !
Candles from ZenaMoon that brighten my days.
If you wrote your Gratitude Friday on your blog, don't forget to enter your NAME and URL below so I'm notified and can come to read you (you can also join by commenting this post):
[linkme]