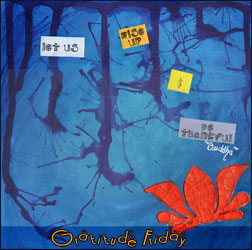 Gratitude Friday is a weekly ritual I started in order to focus on all the small and big positive things that happened during my week. I invite you to join me, you'll see how much being thankful can change your life. If you want to know more about it, read my introduction post.
Hello !
I was waiting for this week to come for MONTHS. No kidding. My mom is here from France, we didn't see her since summer 2010, it was like forever…
This week, I am grateful for:
Hope. I knew Mom would eventually come, even when it seemed hopeless for several reasons.
One of my latest journal pages is featured today on Julie Fei-Fan Balzer's blog and you know how much I love her.
I can't wait to share with you this amazing project I am working out. Will talk about it in a couple of weeks.
Homemade bread, daily. I bought this book by Jeff Hertzberg & Zoe François, it is just amazing (some bread is currently baking in my oven as I type this, it smells heavenly).
The Halloween Party at my husband's work yesterday. It was fun.
The non-guilty feeling I am filled with despite the fact I almost didn't work this week.
Homemade madeleines. I've never been fond of it but the one I bake are just addictive.
My mom doing my hair. Feel like a kid again.
Again, the Reiki Awakening Academy (I guess i would have to dedicate it a whole blogpost). I took another class with Alice and it was amazing. I now have to practice 😉
My customers. They are happy with what they buy from me, and it makes me happy. A positive circle it is.
Taking everyday pictures. I found a website that print your instagram pictures, it is not expensive so I think I will use it soon. I am looking for a great way to document our daily life. Any ideas ?
My Mister Linky is being spammed so until my dear Husband has time to change it, I disable it. But please please please do share your link in the comment to this post so I can come read your Gratitude Friday blogpost.