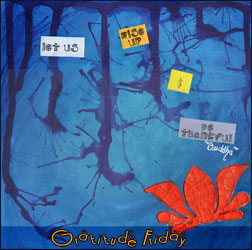 Gratitude Friday is a weekly ritual I started in order to focus on all the small and big positive things that happened during my week. I invite you to join me, you'll see how much being thankful can change your life. If you want to know more about it, read my introduction post.
Hello !
How could it be already November ? I mean… it was like a few minutes ago I wrote down my goals for 2011 that it's already almost gone. Luckily I have some big plans for 2012 (and better be, as we will all die at the end of it. Mwahahhahaah).
This week, I am thankful for:
Good food in the belly. Cooking hurts now but the rewards are worth it eventually. I hope I am giving the love of cooking to my girls.
Creativity, not only painting.
Halloween was great. The girls loved their costumes. My husband won the pumpkin carving contest for his team at work. The neighbours were generous in candies and treats, with a smile.
My husband, who ships my orders for me everytime, without complaining.
Real friends.
«Ceremonials», the new album of Florence + the machine. Florence Weilch shows me that even our dark experiences, thoughts, can become something beautiful. Andthat being a bit different is not a bad thing after all.
The weather is not that bad, just very cold.
Schoolbus.
Etsy. I am finally more and more fearless about promoting my art there and am taking steps. Makes me happy.
My mom's love and support
I wish you a wonderful friday.
There is still the issue with the linkystuff, so please share in comment 🙂