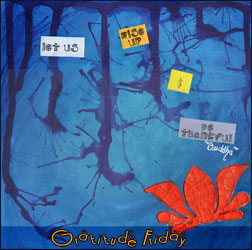 Gratitude Friday is a weekly ritual I started in order to focus on all the small and big positive things that happened during my week. I invite you to join me, you'll see how much being thankful can change your life. If you want to know more about it, read my introduction post.
Hello !
I have nothing much to say about the date of today, I like it and make plenty of wishes. In our family (meaning my husband and kids) we use to make wish when we notice that on the clock it is like 2:22, 5:55 and times like these. So today is just a bigger day to send wish to the Universe (for me).
What about you ?
I have to make it short (hmm sort of) today again, you'll see why.
This week, I am thankful for:
Me become more fearless. I recorded and published my first spoken tutorial video. It is in French but you can still watch it on my YouTube Channel. I am thankful Teesha Moore gave me her permission to do so.
I also attended the awesome Vivienne McMaster's first creative business meetup on Wednesday. I was scared but all went well, I met her and some other fantastic local artists.
The new painting I finally finished this week. Her name is Misty. I love her mucho.
I am leaving Vancouver in a few hours with my husband. Heading to Seattle for the week-end. Without the kids. I will attend Flora Bowley's workshop at the Artfest Annex and enjoy some alone time with my love. Thank you mom.
Speaking of my mom, she took a very good care of me yesterday when I injured myself very badly (you know, when it hurts that much that you almost faint and can't breathe and can't stop sobbing).
The (very) hot bath I indulged myself with, where I put some Epsom salt and Patchouli essential oil.
The friendship and love and honesty and support from Anu (she is an amazing emerging life coach, you shoud definately check her out !)
The fantastic feedback I get from my customers.
Freshly homemade food at every meal.
The chance to have an health insurance and that I don't have to pay for my meds.
I received an Angel Alignment session and reading. Very powerful.
I won't be around this week-end but I have an AWESOME news for you that I will share on Monday <3
If you wrote your Gratitude Friday on your blog, don't forget to enter your NAME and URL below so I'm notified and can come to read you (you can also join by commenting this post):
[linkme]