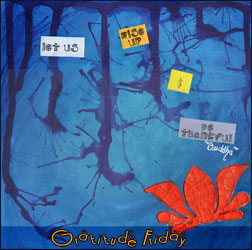 Gratitude Friday is a weekly ritual I started in order to focus on all the small and big positive things that happened during my week. I invite you to join me, you'll see how much being thankful can change your life. If you want to know more about it, read my introduction post.
Hello !
What a week, what a week, what a week… A positive one. I learn that I should never trust the beginning of a week to be the same day after day because it all can shift suddenly (does it make any sense ???).
This week, I am grateful for:
The amazing week-end in Seattle with my lover. The workshop was fantastic, my husband caring and loving. Our dinner at The Cheesecake Factory more than good (and we stayed reasonable in what we ordered so I did not feel guilty).
The missing branches of my family tree are finally blossoming. I had unexpected email, unhoped for news. Maybe I won't stay a ghost anymore ?
My mom was with me to greet my tears of "wow" and joy.
The realtor from the realty thing that manage our home, that understands us.
The nice guy from the gas company that looked for the issue and resolved it.
Snow. I love snow, just not at ease when my husband has to drive under/over it.
I am so grateful to be part of the teaching team for the next 21 Secrets !!! Thank you Connie.
ZenaMoon doing a sale. Packing up on new positive candles. It is a real treat for me.
Anu and Alli for their friendship and their good advices.
I ordered a few 2012 Inner Voices calendars for Inner Worlds (my Etsy shop). I can't wait to receive them and to put them in the shop. Hoping some people will feel called to have them in their home for monthly positive messages.
I created my husband's birthday gift (shhhhh don't tell him)
He's going back from his business trip to Texas tonight. YAAAAAAAAAAY.
I am writing my first newsletter, planning to send it next week. It is not too late to sign up. The box to do so is in the right sidebar========>
Sewing with my mom.
My husband is bringing me home a gift that will simplify and ease my life 😀
How was your week ?
If you wrote your Gratitude Friday on your blog, don't forget to enter your NAME and URL below so I'm notified and can come to read you (you can also join by commenting this post):
[linkme]