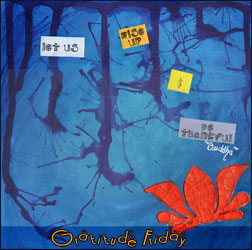 Gratitude Friday is a weekly ritual I started in order to focus on all the small and big positive things that happened during my week. I invite you to join me, you'll see how much being thankful can change your life. If you want to know more about it, read my introduction post.
Hello !
Christmas will be there in a week. My girls are both in vacation today. Baking cookies is planned, and we bought our first gingerbread house kit to create together.
This week, I am thankful for:
Mom is here to celebrate with us. The last two years it was just the four of us.
I will be able to rest, not to stress over what to cook for Grenouille's lunches at school, neither to hurry in the morning to get her ready for the schoolbus.
Goddess Leonie's 2012 workbook + planner I printed and put in a binder, to review for you. It looks amazing and I feel like it could change positively a lot of things for the year to come.
My husband and I celebrated our 8th dating anniversary. We went to see Hugo and have dinner together. It feels good to be just the two of us sometimes. It feels good to have mom around.
I am in a creative groove. I love the Nixies that are emerging. I paint again just for the joy of it.
I am creating my first Brown Nixie and you have no idea how happy it makes me. For a lot of reasons.
The pain is not that bad this week. And I sleep again almost normally.
My Nixies cards are flying all over the world to their new homes. And twice it was moms who ordered them for their daughters. Makes my heart sing.
The questioning about what I do. About my life purpose. And the answers at those questions.
My family saying "you smell good" even if I don't have any perfume on, it happened a lot this week, strangely.
The excitement of my girs regarding Christmas. I love them both so much.
I art journaled again and oh my goddess it feels good.
I sent my December edition of Inner Whispers. Not all the subscribers have read it apparently, but it's ok. I created an archive page (see the horizontal sidebar, titled Inner Whispers), you can read the previous editions (and the current one).
I am listing lots of new art prints in the shop. And I have a 15% off prints ! So it's time to get your dose of Nixies before Christmas. Enter PRINTS15 at checkout.
If you wrote your Gratitude Friday on your blog, don't forget to enter your NAME and URL below so I'm notified and can come to read you (you can also join by commenting this post):
[linkme]