I sometimes think of myself as a Lunatic.
My mood goes up and down and up and down again. It is exhausting. And even if I try to stop it, all I can do is go with the flow. I don't know if it is linked with my fibromyalgia or not, and honestly I don't even care.
It feels like I am absolutely not in control of my feelings. Which actually may be just a truth admist other truths, no ?
Just so you know, despite the fact I was born under the stellar sign of the Virgo, I am not that much of a control freak. I am a lot of things but not that. Or not for everything (just have a look at my home mwahahah).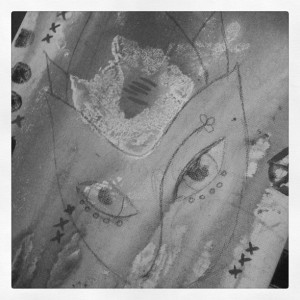 Today, something HIT me in the face. I was wondering why this week was so hard for me creatively speaking. How come none of the paintings I started brought a«WOOOOOW I so love this one» like it happened almost everytime this year. And then… I realized that this weird flower-headed creature that emerged today holds the key to my answers: she is different. In everything I do, she is different. The painting, my process, her.
And then I asked myself some more: but why does this feel so damn hard ? this is not the first time I do something different.
Yes. But before, I was the one chosing to step outside of my comfort zone, to explore things. Since «Fierce», I have this weird sensation to be more of a channel than anything else. I don't know what will decide to show up in the painting until it's actually there (it's like that for my Nixies as well, though). I'm okay when it's a Nixie, no matter what she looks like, but then I see it and freak out. WHAT's THAAAAAAAAAAAAAT (you see the famous painting «the scream» by Munch… yep that is what I look like heee).
I realize that the reason why I am afraid when I discover it is a weird non-sense creature that is on my painting instead of my usual Nixie is because it is not something I am expecting. If that makes sense.
But I remind one of the biggest lesson I've learn in this lifetime: ACCEPTANCE IS THE KEY.
I learn to let go of my expectations.
I learn not to be afraid.
I learn to accept to be a channel.
I learn to love what I create, no matter what it is.
I learn to love the downs as much as the ups. Because this is what Life is made of.