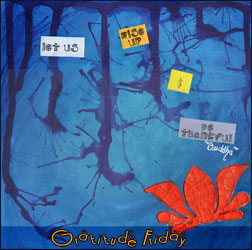 Gratitude Friday is a weekly ritual I started in order to focus on all the small and big positive things that happened during my week. I invite you to join me, you'll see how much being thankful can change your life. If you want to know more about it, read my introduction post.
Hello dear Souls !
October is there… which means our girls are thinking Halloween and Christmas. This will be our first year celebrating it in our new home (we moved in in April). And since this is our home, we will finally be able to decorate and have fun doing so (which makes us pretty happy, honestly !). I can't wait to see how our neighbors will decorate the outside of their homes too 🙂
I really want to be back in this weekly ritual of sharing with you my Gratitude, and I hope to read your own in the comments (or put the link to your blogpost at the end of this so I can come over).
I want to wish a very happy Thanksgiving week-end to my fellow Canadians ! Hope you fill it with Love and Appreciation <3
This week, I am thankful for:
Pizza delivery when I am too tired to cook dinner (we don't do that on a regular basis, so it is a treat)
My husband that still loves me no matter what I look like (ooooh I was pretty nine years ago when we fell in love, now two kids and almost 10 moves later, I don't look quite the same), he shows his love and I really appreciate it (especially when I feel like I have the body of a 60yo woman).
Project Life and organizing our memories in pictures and words.
I've shared some personal stuff in here lately and despite the fear of showing it to the World, it feels good to be true to who I am.
My Journeylistic Challenge, I have started the journal #1 (out of the 15 that I am planning to create). Iam thankful for the classes by Julie Prichard over at The Land Of Lost Luggage, because I can still access the ones I signed up for YEARS ago (for journal making, I often need a nice reminder of how to do)
The big table I now have in my Creative Hollow. And the fact that I am decluttering the floor in there.
The little touches we add here and there in our home, that makes it more us. I kind of begin to look for home decor ideas etc.
The weather that is still SO nice. I am not ready for the rain season yet, so I enjoy every ray of sunshine I can get.
My friends' love.
The kilos that are finally going away. Still a long way to go but I am getting there. On the road of self-esteem and a better care of myself (the better I feel, the more I can be loving for my family; and vice-versa).
I am using more my Big Camera than my phone these days, but will try to do both. So I don't have lots of pics to share today. Here are two:
If you wrote your Gratitude Friday on your blog, don't forget to enter your NAME and URL below so I'm notified and can come to read you (you can also join by commenting this post):
[linkme]