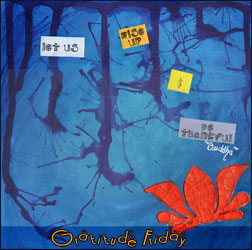 Gratitude Friday is a weekly ritual I started in order to focus on all the small and big positive things that happened during my week. I invite you to join me, you'll see how much being thankful can change your life. If you want to know more about it, read my introduction post.
Hello beautiful you !
November, here it begins… Only two months away from a new year. Only two months to finish 2012. Can't believe it, actually. I know it is cliché to say how fast the year went by, but right now this is how I feel. But I may come back to it more in depth later.
This week, I am thankful for:
Sharing my Art Studio with another artist.
Getting things done. It feels good to have this sensation of accomplishment.
The paintings I am creating for each of my daughters. They are both almost finished, can't wait to gift them with it and see their reactions.
Anu, who helps me so much in being a better me and in growing my business in a mindful way so I don't lose myself.
Discussions with Paola.
My husband's honesty. and support. and love.
The inspiration my daughters are on a daily basis, each in very different ways than the other.
Audiobooks I can get or download from our Public Library.
The «Sugar and Spice» Art retreat happening next June, that should be the first retreat I attend.
The two custom paintings I am working on, which is very exciting (and makes me a bit nervous but don't tell).
Being more and more comfortable about the business side of the «I am an artist» thing. I won't sell something I did but don't love. I am finding my way…
How was your week ? I hope to read your Gratitude List in the comments 🙂
Have a great week-end.
If you wrote your Gratitude Friday on your blog, don't forget to enter your NAME and URL below so I'm notified and can come to read you (you can also join by commenting this post):
[linkme]