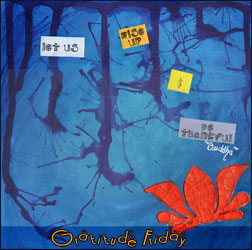 Gratitude Friday is a weekly ritual I started in order to focus on all the small and big positive things that happened during my week. I invite you to join me, you'll see how much being thankful can change your life. If you want to know more about it, read my introduction post.
Hello !
Today my girls are home from school, which starts again on Tuesday (can you feel the little despair here ? just a little). So I have to be quick, because it is 9H20am and they still haven't finished their breakfast (which I would not mind much if they were not doing something else instead).
We'll go in the studio and maybe finally start the prayer flag I want for our living room; Koala wants to paint and bind a new art journal as hers is already filled (I could think she eats them because of the rapidity she finishes each new journal, but now, she draws and draws… on pretty much everything she finds, actually. proud mama).
So this week, I am thankful for:
Snail mail. I finally received my Mom's letter (we decided to write to each other at least once a month), and the print I won from Mindy Lacefield. It is amazing, can't wait to buy a frame and hang it somewhere in our home.
Good honest talk with A.
The two custom paintings I am currently working on. Each have a huge story behind it, so I channel that while painting. Can't wait to know that my customer with them in hands.
Project Life. Memory keeping in general.
Art Everyday Month, it challenges me to actually share what I do daily, and I may try to keep that afterwards. Blog daily, even a short post. Sharing with you my «behind the scenes»
The weather, very cold, but sunny.
The outcome of the US elections
Music (listening to: Bat for lashes, p!nk, «who you are» by Jessie J and more)
The X Factor. There is something about the singers there (I would love less drama between the judges/mentors though). Passion. Faith. Ignited fire in their eyes. Raw emotions sometimes. Hope.
And just a reminder, because some of you may need it right now (or simply enjoy):

If you wrote your Gratitude Friday on your blog, don't forget to enter your NAME and URL below so I'm notified and can come to read you (you can also join by commenting this post):
[linkme]