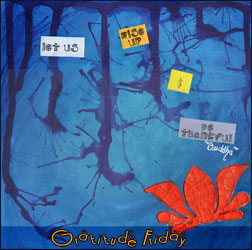 Gratitude Friday is a weekly ritual I started in order to focus on all the small and big positive things that happened during my week. I invite you to join me, you'll see how much being thankful can change your life. If you want to know more about it, read my introduction post.
Hello dear Souls !
Maybe this will never get to you because well, the World is supposed to end today (but they were not clear on what hour it would happen, though…). So who knows ?
I am one of those who deeply feels a shift, an extra sensitivity in the emotions, I have been feeling lost, vulnerable, on the edge all week.
This has been a pretty rough last few days (and if I really introspect, it has been there for a bit longer), but today marks the beginning of the Holiday vacations, both for my girls and for my husband, which makes me pretty happy.
This is in the moments where everything seems blurry, when loneliness seems to be taking control that taking some time everyday to reflect on all the positive that surrounds me helps the most. It kind of works the same as my relationship with writing (and my brother told me on the phone the other day that lyrics come to him way more easily when he is in a dark place that any other time): it is when I feel hopeless that the words come out with more ease and fluidity. It's a shame, because who wants to be depressed in order to be (more) creative, uh ?
This week, as I sit down to think of what happened to me recently, I am thankful for:
Having a car lent to us until we got ours back. We were told after the accident we'd have to wait for a week to a week and a half, it appears the chances to get our car back before the new year are very slim…
The Christmas show at our girls' school, was very sweet.
We went to see The Hobbit. Like at the movie theater… which never (or rarely) happens as we don't have family to look after our girls so we can have date nights, or time out. Thank you to our neighbors who proposed to do so, so we could go.
Friends.
Opportunities. Being opened to them. Letting them IN.
New cookbooks, «Chloe's kitchen» (discovered her a while back as she was in an episode of FoodNetwork's «cupcake war»). It is a vegan cookbook filled with recipes you would not even know they are vegan ! And also Kris Carr's «Crazy Sexy Kitchen», that is amazing but on the raw side. I won't become either vegan or a raw eater but… I love new perspectives. And I am thankful for my husband's open-mindness (is that a word ??), as he is never complaining about my (sometimes weird) tests in the kitchen.
Christmas cookies afternoon with my neighbors.
Honest open conversations about beliefs, theology, religion. Deepening my Spirituality. Putting words on it. Finding solutions to feel whole again. All hand in hand with my Love. Because he listens and understands and supports and loves.
Accepting and creating new opportunities.
No pictures shared with you this week. I know I've recently shared with you another song from Emeli Sandé, but… I feel the need to share this one with you, called «My kind of Love»:
I wish you all a good end of year holidays. Whether you celebrate Christmas or not. Say «I love you» to your closed ones, even if it is just over the phone. Hug them. Shower them with your love. I know it sometimes tough at this time of year (it is for me, as I am far away from my family, except the one I created).
If you wrote your Gratitude Friday on your blog, don't forget to enter your NAME and URL below so I'm notified and can come to read you (you can also join by commenting this post):
[linkme]