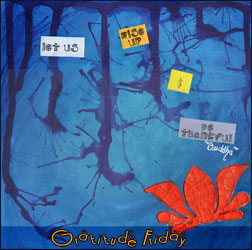 Gratitude Friday is a weekly ritual I started in order to focus on all the small and big positive things that happened during my week. I invite you to join me, you'll see how much being thankful can change your life. If you want to know more about it, read my introduction post.
hey you !
This week actually flew by. Sort of. I am happy it is Friday. We took the girls out of school for the day and my husband had the green light to take a vacation day (boo) so we could all go to doctor appointments (cross your fingers as Koala needs a shot and she kept saying «I don't wanna go» all week…).
This week, I'm thankful for:
This feeling of «it makes sense right now».

The long way and how I've positively changed in the last 10 years.
Being able to be there for friends who need someone to listen.
My Gelli plate.
Rice with furikake and veggies and tori soboro. My kind of comfort food for lunch (wish I had avocado).
Mindy and my True Free Spirit classmates.
Sleep.
My mom.
People sharing their gift(s) with the World.
Honesty.
Truth sharing.
Seeds of dream(s) being planted.
And you, what makes it to your Gratitude List this week ? (please, if you blogged about it, come back here to share your link below, would love to read it).
If you wrote your Gratitude Friday on your blog, don't forget to enter your NAME and URL below so I'm notified and can come to read you (you can also join by commenting this post):
[linkme]