Last Monday night (last week) was supposed to be special. We are a family of geeks, each of us in our way. See, we love constellations and it is in our family plans to learn how to recognize them in the sky together. There was a meteors shower and we were supposed to go out, lay down, and watch the sky to see them fall.
Well… Chéridoo had to work, so I worked a little too, both in our computer room. The girls wanted to be with us, so Grenouille started to play a bit on the keyboard I got last Christmas, and Koala ask me if she could use my mini djembe (an african drum) and I answered «yes, as long as you are extra careful with it» which I know she would be if reminded to (this drum was given to me by my Senegalese penpal of several years when I was a tween and it was really dear to me). And BOOM we went in a split second from having fun to my djembe complety crashed on the floor, me yelling «I told you to be careful ! can't I trust you with that ??» to my six and a half year old (and yes, I do feel bad about my reaction).
My husband tried his best to help me calm down «she did not do it on purpose, it slipped. And YOU agreed to let her use it. YOU said it was okay for her to play with it.» and so and so. I know he was really wanted to diminish my anger and sadness, and to help Koala to feel better about breaking my drum, but it just made me feel even worst because I already knew that yes, it was my own fault (I did not want to be the «no sayer» mom once again).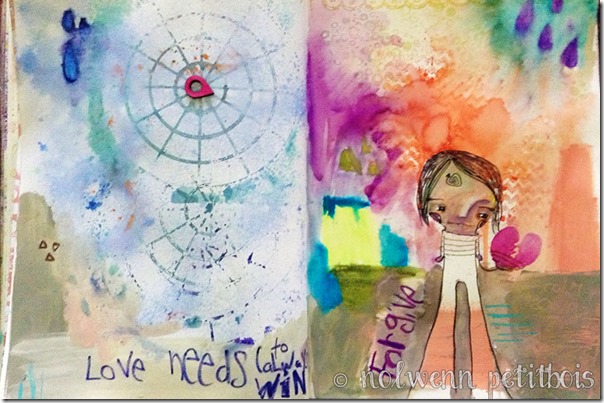 I then decided that it was better for everyone that I wind down alone in my Studio, so I opened my art journal, where there only was stenciling left overs (the orange chevrons and the targets). I did not want to do anything complicated, I just needed to let it out. fast. easy. This is also one of the reasons I love cleaning my stencils and my palette on journal pages, so it gives me a start afterward.
I spread the left page with some Lindy Stamp Gang (=LSG) Starburst (it's a brand that created two-tone spray inks and products). Then, I stamped the bubbles you see on top of the right page, it is a stamp from a set by Mindy Lacefield with Archival ink (which is my go-to ink, I use it for everything because it won't bleed).
I did some mark making with Neocolor II (=watersoluble crayons), sprayed it with water to make it bleed and spread (be careful if you want to try that because you never know what result you would get).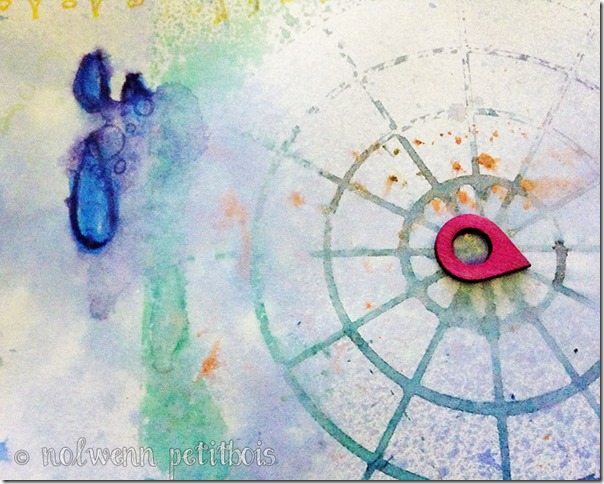 I really wanted to keep what was there when I started the page, and this stencil from Stencil Girl is just one of my current favs (more on that soon).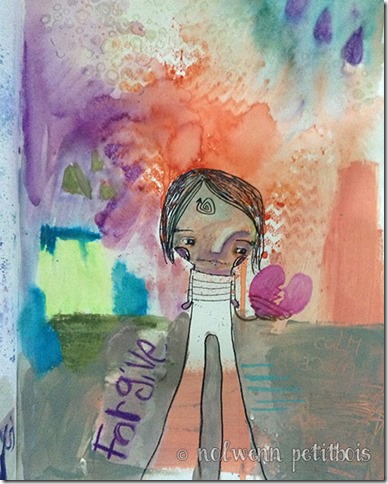 I made color blocks with the Neocolor II, and acrylic paint. The pretty face (just the face+upper body and arms)is from the same set from Mindy, I used it with black Archival Ink.
I didn't want perfect, so I simply went further on the lines and it became these 80s-like pants. She is holding her broken heart, not wanting to give up on it. Not yet.
While the water was smudging and blending the colors together, I was visualizing my anger going away. And it worked (I knew it would, but still). Scratching into the wet paint helped quite a bit, too.
By the time this spread was done, I was calm again, went to apologize for my reaction (and briefly explained why it was a precious item for me) to both my daughter and my husband. And we went on the balcony to watch for meteors 🙂