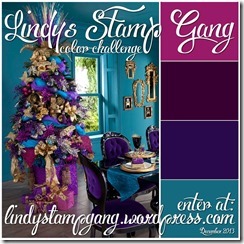 It's December guys ! wow, just wow.
We are bringing you the last Color Challenge of the year at Lindy Stamp Gang. I love love the color inspiration but it is wearing its name perfectly this month: challenge !
Remember that to enter, you don't have to use all 4 colors, you can pick 2 of them and go from there.
You can find all the infos about entering the challenge on the LSG blog. You can win a gift certificate 😉
We are now offering limited kits to help you in your choices colors, in case you are having a hard time deciding (you have three options: sprays, embossing powders, or both).
Find what my amazingly talented friends on the DT created as well for this month's challenge over there.
This month, I came back to my happy place: my art journal. I am almost at the end of this one (the big Dylusions one) which makes me very happy (because I love finishing a journal and starting a new one !).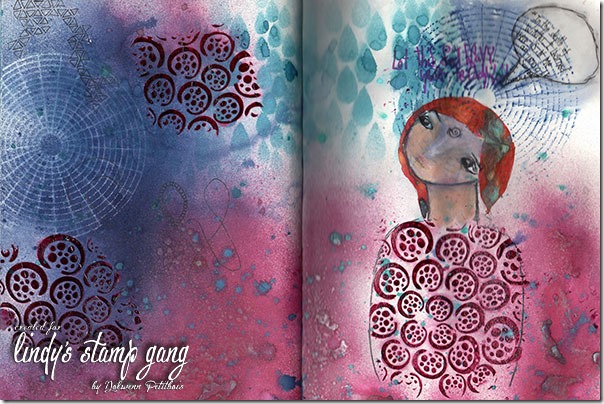 If you've been following me, you know that spray+stencil are what utterly lift my spirit.
I started my page with a sketch made in bed, I sometimes do that yes (sketching while watching tv). I was feeling very heavy emotionally and this Nixie emerged: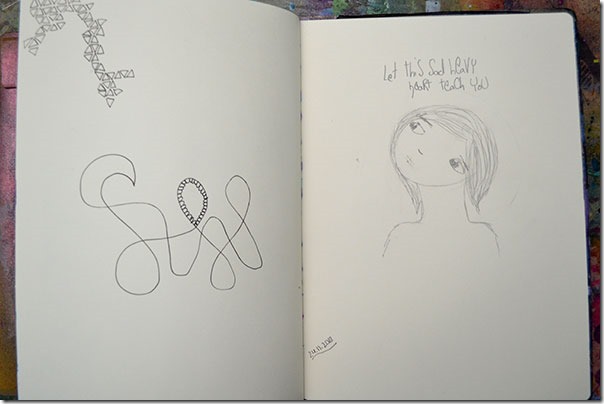 I made some splatters of Tibetan Poppy Teal (take the sprayer part off from the bottle, and shake over your surface. Be careful, it's unpredictable).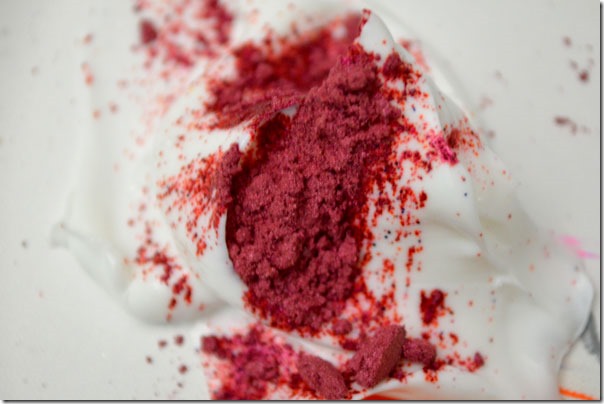 Then, I mixed some beautiful Autumn Maple Crimson Magical Mica (part of the Autumn Leaves collection) with heavy gloss gel medium. It creates a wonderful sparkly paste. I applied it through the Pomegranate stencil from The Crafter's Workshop. I decided to use that to give her a whimsical body:
I sped up the drying time a bit with my heat gun. I did not apply it very thickly so I would not have to wait too long.
The spraying fun started after: I used one of my favorite stencil (I think it was from Studio Calico) and sprayed Flying Monkey Midnight through it and aside (it is one of my favorite Flat Fabio color, one without the shimmer).
After that, I picked I'm Late I'm Late Slate (another Flat Fabio spray) to spray all over my spread, to bring everything together. It is a very subtle color so perfect for this purpose)
I used one of my favorite stencil, still from The Crafter's Workshop, and sprayed the drops/tears with Tibetan Poppy Teal.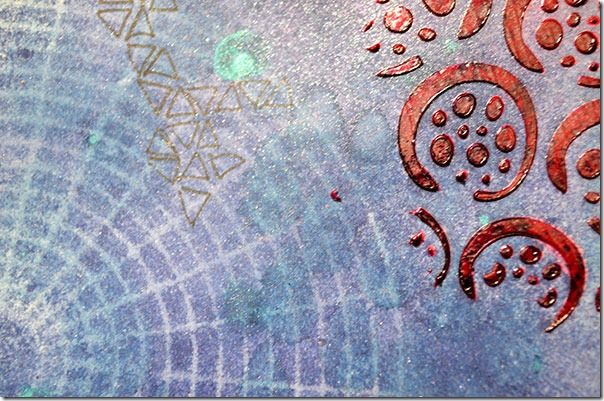 I am more of a Silver girl than a Gold one, I love our Cranberry Mist Burgundy color (part of the Holiday Wreath collection, now only available as shots… but you know what ? you can mix it up and put it in a spray bottle if you want)because of its beautiful strong silver sparkle, it goes so perfectly with the Flying Monkey Midnight and Tibetan Poppy Teal colors…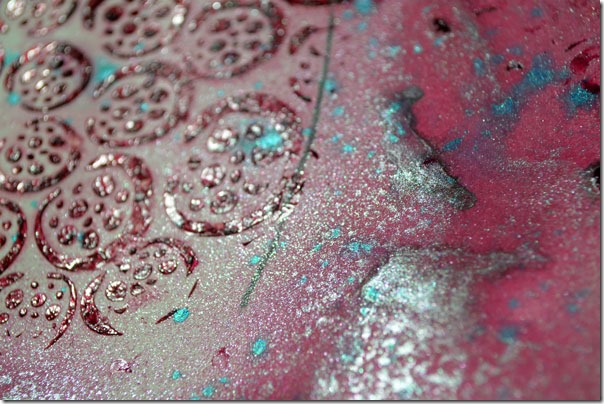 I worked on my Nixie's face with Neocolor II (watersoluble crayons from Caran d'Ache) and white acrylic paint. I wanted her hair to pop, so I used Poinsettia Red Gold Starburst Shot (part of the Holiday Wreath collection as well, with touched of the Tibetan Poppy Teal shot to highlight it. Look at this gold shimmer !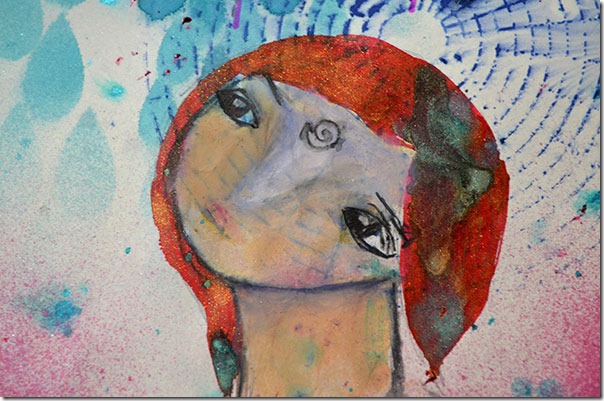 I wrote her messages («Let this Sad Heavy Heart teach you» and a quote from Albert Camus saying «In the depth of winter I finally learned that there was in me an invincible summer.»)
Done !
I hope you liked this step by step, and that it's getting you inspired to participate in our Color Challenge 🙂
Here is the list of the products I used (click on the image to be redirected on its page):