First, I want to apologize, I tried several times to edit with my usual program but it kept failing on me so I had to go back to the one I used before… And I tried several times to record the voiceover but for reasons I still don't understand, it never recorded everything. So instead of pulling my hair out, I decided to roll with it and add some captions. Doing my best to listen to you and what your preferences are <3
I am almost liking working in my Moleskine journal again. Almost. Wanting to be done with it is a motivation like another, right ?
This week's spread is really easy. I went for what I needed, because this always is what works best for me and one of the reasons I actually keep an art journal in the first place. I hope you'll see that you don't need fancy, you don't need to spend three hours on a page, to make something that speaks to you.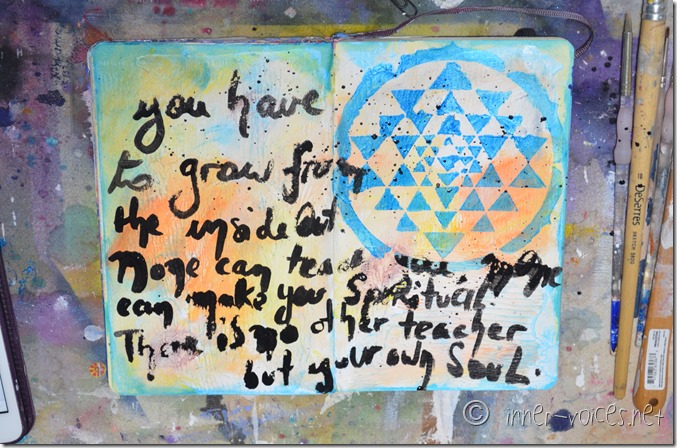 Using the foam applicator can really be useful when it comes to playing with stencils because you can cover the surface easily, use it with paint or with ink. Ink tends to be crisper results because it is more drier than paint so less chances to have it slip underneath like what happened here.
The quote is from Swami Vivekananda, and says:
You have to grow from the Inside Out. None can teach you, none can make you spiritual. There is no other teacher than your own Soul.
Here is the list of the supplies I've used for this spread: