This is no secret I am an obsessive person. To the point of frustration sometimes (because I top that with impatience, of course). So I decided to make this series of blogpost in which I share what I am currently obssessing over 😉
Joy Williams released her first solo album since the crash of her duo The Civil Wars. It is called Venus. It is lucious, raw, inspiring. Beautiful.
Oh and you can listen to Joy talking about her process and the meaning behind each song on her album right here.

Penny Dreadful, the tv show starring Eva Green. She is just breathtaking in her role of Vanessa Ives, she goes through such a vast range of emotions and she makes it SO believable. The show is set in the Victorian Era but clearly has a gothic flare to it (oh my… Vanessa's clothes are to die for). I love the take they have regarding characters we thought we knew. Season 2 is even more dreadful and visual than season 1 so we watch only one episode at a time instead of binge watching like we usually do. But it.is.good ! (note, the video below is pretty visual so maybe if you know you are sensitive to scary things and sensuality, avoid clicking <3)

Chocolate chia pudding parfait from Danielle Walker. You might or might not know I am a foodista. I love food, I adore cooking and discovering new ways of enjoying eating. I am not Paleo but I enjoy some of their principles, and avoid gluten as much as possible because it does not make my IBS happy. I own several Paleo cookbook (and vegan cookbooks and… yes, tons of them, I confess). I fell into the chia wagon long ago, I however have an issue with their texture and the fact they stick inside my teeth (yuck), so I am always looking for recipes that actually grind them. My favorite is from Danielle Walker, who writes the blog Against All Grain (she published two cookbooks and is currently working on her third one). She combines chocolate chia pudding with banana and almond butter (you can add more food to it but I don't). and that is just perfection to me. It fills me for the entire morning, too, which is good. I never know what to eat for breakfast, honestly (any suggestion welcome ;)).
Abstract painting. I have been exploring this for a bit now and right now… I am even having night dreams about all the possibilities in front of me. It is about telling my stories differently. In September, I will start working a few hours with an artist, Jenn Williamson; she will be mentoring me and I feel so blessed to be able to have my path crossing hers. I cannot wait for the exploration to deepen further. This is so different than my usual paintings, and to be honest I still see faces emerging and once they come to me, I just have to bring them to life or it will bug me 😉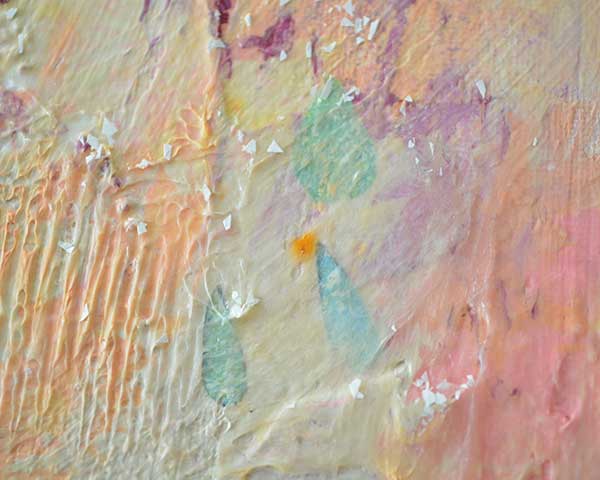 Art Journaling. I used to work in my art journal every day. But I have been scared. Weird, right ? I have been in a whirlwind of emotions and personal things happening and usually, what happens in my art journal is unexpected (even more than on my paintings) and I guess I have been afraid to have seen the darkness pops out too often on the pages, so I shut it all down for a while. But I am back and accepting to feel all the feels. I am a teacher in the upcoming online class Radiant 2 and can't wait for you to discover what I've been up to for it (it starts October 1st and I will soon have a spot to giveaway. But you can sign up and join the fun already on our facebook group).