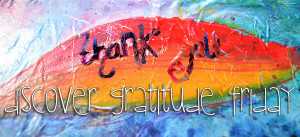 Welcome to this new Gratitude Friday !
Happy Friday ! I want today to be good. I want to feel more accomplished than any other day of this week.
This week has been challenging in many levels, so I am very happy it is coming to an end…
This week, I am thankful for:
My husband coming home tonight
The trip my 12yo daughter is doing with her school, and her dreams coming true
Books and music as an escape route
The safety of home
Tears streaming down my cheeks, draining the pain out of me
My friend Micki's new amazing class, Fawn and Forest
The possibility to rest
"I love you"s
Family time
My journals, safe places to pour my heart out when I just want to let everything go, including myself.
Tune for today (and every other day because it is THAT good):

Want to be held in my Reiki bubble of Gratitude and Joy ? Feel free to leave me a comment with a short or long list of your own Gratitude moments, and I will send energy to you as a thank you <3