You may know if you follow me on social media that I am an avid reader. It is part of my Soul-Care routine and I do my best to carve time for reading every single day.
For the past few years, I have participated in the Goodreads Reading Challenge. Everyone who wants to participate set up a goal of books to read during the year, and we update with each book finished. It's really cool to have a goal to reach and to know where I'm at. I wish I would carve time to actually write short reviews for each and every book I finish.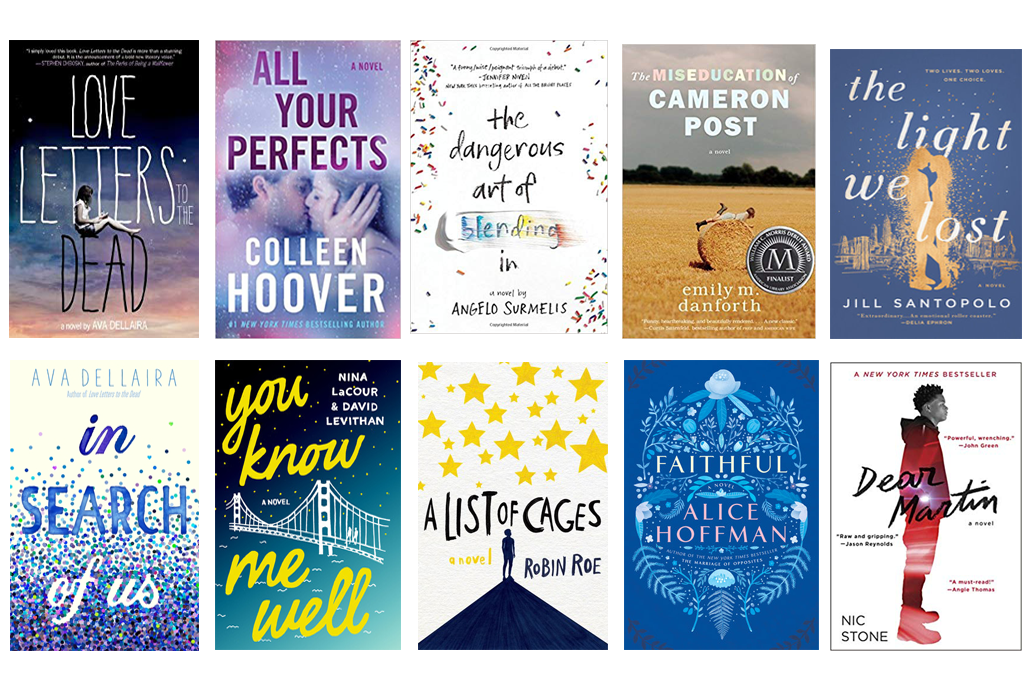 Love Letters To The Dead – Ava Dellaira | It all starts with a school assignment: write a letter to someone dead. The main character, Laurel, picks Kurt Cobain because her sister loved him. May is dead young, just as Kurt Cobain. Laurel continues to write to several dead people (Amy Winehouse, Amelia Earhart, Heath Ledger…..) and deals with her life without her sister and something that happened that she tries to forget but can't. This book is really touching.
All your Perfects – Colleen Hoover | I love Young Adults books, but also like when a writer is doing books for different audiences, which is the case with this book by Colleen Hoover (she's very funny, btw, if you follow her on Instagram). This story is intertwined between "now" and "then" so we can understand how a couple's story ended up as it was. The hurt, the obsession, the secrets they both hold are told back and forth in the timeline. What if sometimes, love is not enough anymore ?
The Dangerous Art Of Blending In – Angelo Surmelis|This book tackles a tough subject as well: being different in a very strict immigrant family, and abuse. I was wrapped in this story, mad and sad and everything in between. It's about discovering who you are when you're a teen, it's also about figuring yourself out and how you fit in inside others' expectation of you. A really good first book from this author. My heart was in million pieces while reading Evan's story.
The Miseducation Of Cameron Post – Emily M. Danforth | This story happens between the end of the 80s and the beginning of the 90s. Cameron has lost both her parents in an accident and now lives with her grandmother and her aunt in her old-fashioned and religious city in Montana. Cameron was first relieved to learn her parents die because that same day, she kissed her best friend and was afraid of this secret. Her aunt has abandoned her former glamorous life to take care of Cameron and believes she is doing her best, out of love. This is how Cameron ends up in a Christian conversion center to fight who she is and who she loves. She meets other teens battling the same fights.
The Light We Lost – Jill Sanpopo | This story is told over 13 years. It is a story of missed opportunities between two protagonists who met in college and fell in love. Gabe becomes a photo-journalist and travels in countries in war to tell what's happening there; Lucy writes for tv in New-York. Will they eventually find themselves together ? It was a heartbreaking book.
In Search Of Us – Ava Dellaira | This is a story that touched my heart on a core level. Told by the mother and daughter's points of view when both were 17 years old. We follow the quest of Angie, who is looking for her unknown father; and the life of her mother Marilyn when she was Angie's age. Angie his bi-racial and know nothing about her father and her parents' history. Marilyn is trying to live up to her mother's expectation as a young actress and falls in love with James, who is African-American. As a bi-racial woman, raised by her White mother from unknown father, it deeply touched me.
You Know Me Well – Nina LaCour & David Levithan | I love these two authors separately, but they worked magic together in this book. This is the story of Mark and Kate, who are opposite but create an unexpected friendship during a wild night in the city. I love stories told in alternative points of view. It's a story about love and deep friendship.
A List Of Cages – Robin Roe | Another heartbreaking story of abuse and love. Adam has ADHD and is happy to be assigned to help the school psychologist, as it gives him plenty of free time. However, when the doc asks him to track a student who deliberately misses all his appointments, Adam recognizes Julian: his former foster brother. What happened to them while separated ? Adam knows Julian is keeping secrets… and wants to help.
Faithful – Alice Hoffman | As a pre-teen, I fell in love with the universe in the Practical Magic movie. I wanted to be Sally… So when I discovered it was an adaptation from a book, I decided to try and read it. Oh my, yes! (if you loved the movie as I did, you need to read the book as it goes way deeper. And by the way, the story of their aunts in The Rules of Magic is just as beautifully crafted). In Faithful, there is no magical world involved, but the story of Shelby, who survived an accident that left her best friend's life changed forever is aching and you can't help but feel all she feels while finding herself in New York City.
Dear Martin – Nic Stone | This book is part of my "Black lives" love list. Nic Stone tackles the subject of racial relations. Justyce, the main character, tries to do his best to succeed in school despite coming from a rough neighborhood. Then, come the day where everything changes because of a "misunderstanding". Justyce has much on his mind and uses a journal to write to Dr. Martin Luther King Jr, to share what is on his mind. It's a must-read, in my opinion.
---
What were you favorite books in 2018 ? Are you an avid reader as me ? Let me know in the comments, I am open to new literary discoveries.