My longtime friends might remember that I used to be a very very negative person. It was not on purpose, but I used to always see the glass half empty. I used to be prepared for any bad road something could take (just in case, you know…). Until not these many years ago, I complained about something. I can see it with hindsight now, I must have been one hell of a person to be around (and is probably why I lost everyone in 2003, as friends and family ditched me all at the same time), reaching rock bottom.
I won't thank them for putting me through Hell. But I understand how they did what was best for them. And you know what? I talk to most of them years after. I did not forget, the hurt is still there, but I forgave…
At 33 years old, going on 34, I have learned to accept this part of me that finds it easier to see everything through a negative lens. I know part of my Essence is made of the same Spleen that filled Baudelaire; but also that it is not the entirety of who I am.
And this is by reaching the bottom that the possibility to rise above appeared.
Yes. When I think about it, I often picture myself in a very deep pool, sinking deeper and deeper… sometimes I see myself just there, at the bottom, in the water… until something shifts and I tap my foot to get above. Rising. I am always rising, eventually. I was talking on the phone with my Mom this morning, about my career choices and she told me: "you're like me, resilient. And belligerent. I know you will figure it out. I just know it." and it felt good to hear.
A few years ago (2015?), I decided it was time to invest in myself and to find my people. I was in Hannah Marcotti's «Magic Making Circle» class. In this class, Hannah put the emphasis on the art of flipping. You take a negative thought that is bothering you, and then you find a way to switch it to something positive.
This is something I try to teach my daughter. Something I wish I knew how to do when I was a teenager.
It is not easy work. There is no switch you can pull so it magically shifts. But
I do believe that the magic resides in the process as much as in the positive outcome

.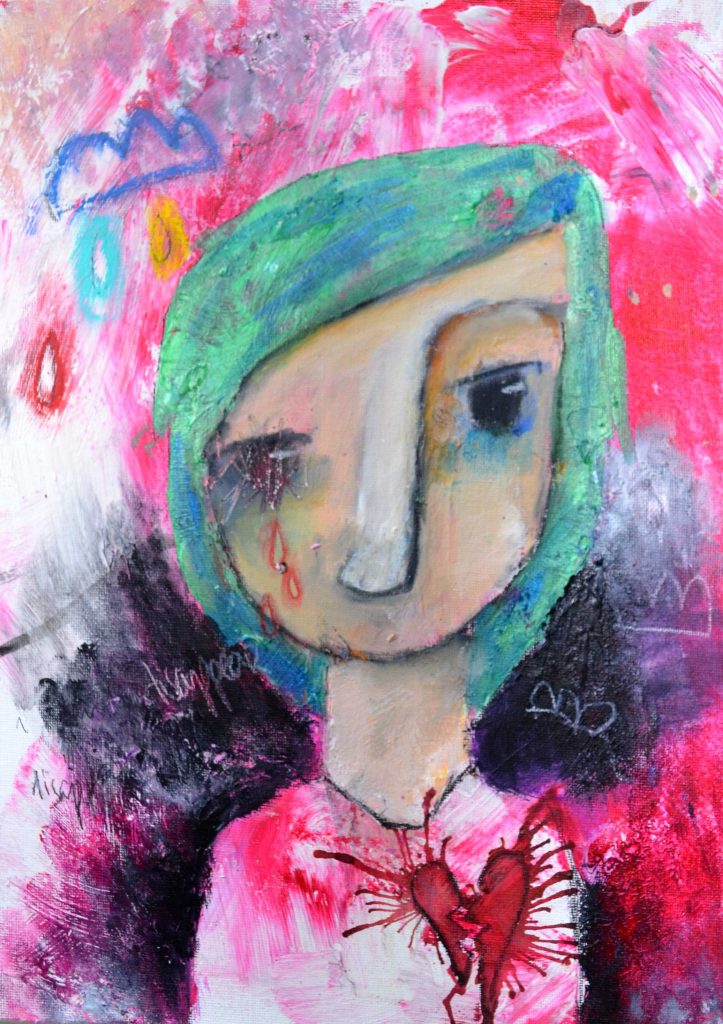 We hear everywhere that there is no light without darkness. I say a big FUCK IT to this. Yes.
I am a big believer of the power of positive thinking and of wishful thinking. However, don't tell me my life can change just because I desire it. With experience, I now know that desire without concrete action is nothing but energy put to waste.
How art helps me shift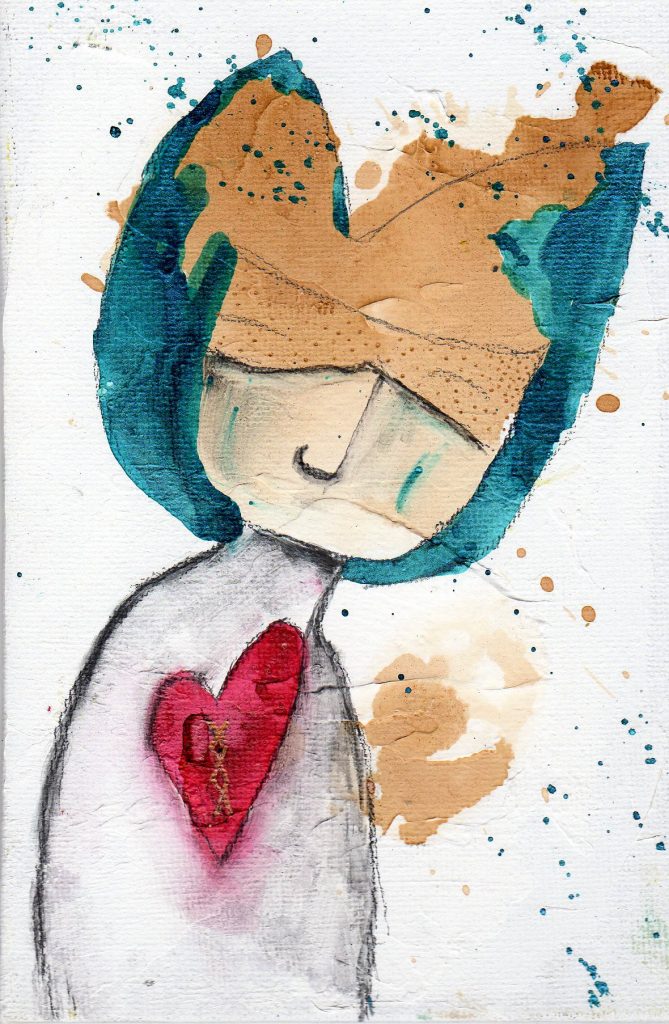 I will usually take refuge within my art journal. Between the covers, I feel safe to express whatever needs to be addressed. I can do whatever I want without the need to share everything. I let the pain, the hurt, the anxiety go within layers upon layers of paint.
Also, creating my Nixies is a huge relief in general. They are not planned out. I learned to surrender to my emotions as soon as I step inside my ArtCave. I sometimes start simply by stating something like "Please, help me release XXX through what I will be creating today" and let it go. My most precious artwork was born from a deep place of darkness…