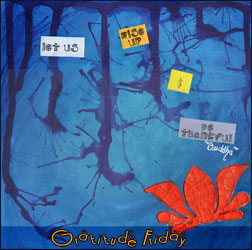 Gratitude Friday is a weekly ritual I started in order to focus on all the small and big positive things that happened during my week. I invite you to join me, you'll see how much being thankful can change your life. If you want to know more about it, read my introduction post.
Hello !
Today is such a beatiful sunny day in Vancouver. I love my city of adoption under a weather like that, and we better enjoy it as they are announcing rain rain and rain again for the week-and and the week to come. Rain and greyish atmosphere have a disastrous impact on my mood; I knew Vancouver was rainy when we decided to live here but it is very hard for me when it is raining non stop for like 5 weeks in a row, a few days of sunshine and rain again. In the car yesterday, while en route to pick up Grenouille from School, my husband and I got a heated discussion about what is the worst: rain and grey, or snow and cold. Of course, we disagreed…
This week, I am thankful for: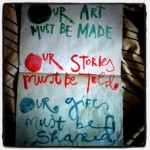 The feather earrings I received for Mother's Day. They make me feel like I am gorgeous. Especially if I put a tiny bit of eye-liner and khöl on my eyes.
Grenouille is making a lot of efforts, at home as well as at school, and she is harvesting the fruits of it.
Grenouille passed her belt in karate. So happy we were able to attend it.
I received the Angel Message from Goddess Leonie, and the message really resonates with me. I was not surprise they whispered this to her for me. At all.
The few journal I created this week.
I ordered a book about how to create fabric art journals via a third person on Barnes & Noble and ended up receiving a book about quilting (i do not quilt). They sent the right book to me the day I emailed them; now I hope it won't take two weeks to arrive this time. It takes longer and longer for mail to arrive, it is crazy.
The love and support from my husband. With whom I will be celebrating 6 years of marriage tomorrow (May 21st).
Reading other participations to my Gratitude Friday.
If you wrote your Gratitude Friday on your blog, don't forget to enter your NAME and URL below so I'm notified and can come to read you (you can also join by commenting this post):
[linkme]