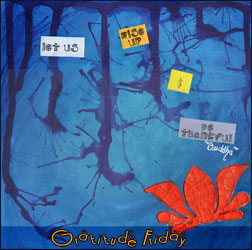 Gratitude Friday is a weekly ritual I started in order to focus on all the small and big positive things that happened during my week. I invite you to join me, you'll see how much being thankful can change your life. If you want to know more about it, read my introduction post.
Hello !
Hard passages are happening one after the other in my life currently. So settling down and remembering all the good that happens in between is just what I need right now.
This week, I am thanking The Universe for :Cette semaine, merci l'Univers pour:
Our new car. We thought we were crazy to change but it will make our life simpler and we'll enjoy the roadtrips to come better. And the people at the garage are very nice, we also had a good trade for our car.
I received the book I ordered after it has been suggested to me in one of the Facebook group I belong to. I am taking my life in my hands and do whatever it takes to create the life of our dream.
Speaking of book, I am also reading the new book by Deborah King, «Be Your Own Shaman», it says stuff I already know and goes in territories I needed to explore.
My new video is online. I will publish a proper blogpost explaining it later today or during the week-end. I really enjoyed this technique I tried for the first time while recording it for you. You can still watch the video here on my YouTube channel.
I am about to finish a pretty handmade art journal that will be listed in my Etsy shop during the week-end. Did I tell you I like it very much ? One of the prettiest I've made to date.
I am opening spaces for sponsors on my blog. If you are interested, just email me. I have already one spot taken on my francophone blog.
Despite the worries, my daughters are healthy and I know I should not be that much on the back of Grenouille regarding what she eats.
Julie Balzer's videos: http://balzerdesigns.typepad.com
My husband nd my mom are beautiful souls, I am bless to have them in my life.
Last week, I got a very good deal on canvases at the warehouse garage sale of the art supply store I usually go. I bought a HUGE 48″x48″ for $16 dollars (!!!!!!!), i am crazy to see that big but I have an idea in mind that implies my entitre family 😉 shhhh don't tell them yet.
We ate some deliciouuuuuuuuuuuuuus fish & ships at Granville Island last week-end, and it was sunny outside (which is something rare these days in Vancouver. I hope the sun did not forgot we exist in this part of the world…). I LOVE fish & ships.
What were your beautiful moments this week ? What made you smile and feel happy ?
Oh I almost forgot. I wanted to share this song I discovered this week that makes me happy happy:

If you wrote your Gratitude Friday on your blog, don't forget to enter your NAME and URL below so I'm notified and can come to read you (you can also join by commenting this post):
[linkme]