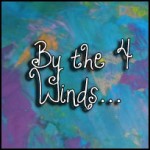 By the 4 winds is a project I do with other women in our Journals. One subject, several points of view. If you want to know more about it, go there.
This week (note: this blogpost should have been fully published on July 13rd, I update it today on August 12th), I wasn't inspired at all, and as my mum was with us for a last week together I didn't take time to think and create for this week theme, that was "OBSTACLES".
The majority of my peeps are in vacation right now, only one did her "homework": thank you Sofiah !
Look at what Sofiah created: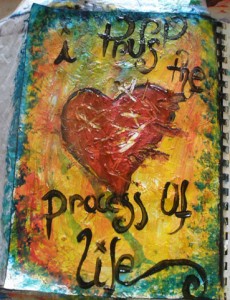 Journaling about Obstacles is tough. Some words came but images didn't.
When I was in front of my blank page, I realized that the best way to go through an obstacle is to fully Trust. Trust Life, trust the process, Trust the fact that nothing is impossible.
The Universe puts on our way only obstacles we can overcome. It can take some more or less long time to succeed, but we can if we never give up.
I recorded while I was doing this page. I hope you'll enjoy watching it.
I'm appreciating going out of my comfort zone in terms of colours. And I am currently in love with this combo of yellow+red+greenish blue ! I use it over and over again. Until the next colour combo I'll fall in love with 😉
I tried to use light modeling paste as a base for texture (you know how much I love texture) instead of gesso, but I'm not fond of it; I don't really know why. But I have a huge jar of it, so I better gotta find how to use AND like it ! What do you do with it (as it's too light for using with stencils for example) ?
Here is a close-up on the heart: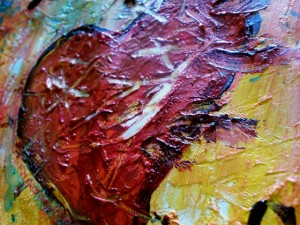 And here is the new Art Journal Video I made (yes, i am really enjoying making and sharing these videos with you ! You can click on it to see it directly on YouTube if you want):

You felt inspired by this journal theme and created about it ? Enter your NAME and URL below so we can see what you did:
[linkme]