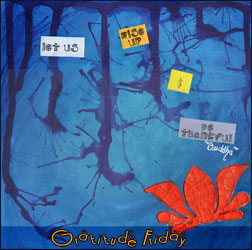 Gratitude Friday is a weekly ritual I started in order to focus on all the small and big positive things that happened during my week. I invite you to join me, you'll see how much being thankful can change your life. If you want to know more about it, read my introduction post.
What.A.Week !!!
I am just blown away by all the positivity that happened to me. I feel so blessed, so… I don't know, there is no word. But Dear Universe, don't worry: I'll pay back all the positive juiciness I am receiving.
I used to feel so transparent, like I was screaming out loud but no one was hearing me. I used to feel alone. I used to feel like the Universe just didn't pay attention to me, no matter how I was feeling. And today, I realize I was just blinded by my own limitations, my own fears. I told you… Being BIG & Fearless is way more than putting some paint on the paper.
I know I already thanked for most of this but… I can't help it but repeat.
➱ Thank You for the wonderful first tribe of BIG  & FEARLESS painters. This is such an honour to belong to this group of amazing women. The energy flowing is just incredible. And you know what ? You can sign up NOW to become one of the second tribe member. Connie is the best positive Guru Queen on Earth ! 😀
➱ Thank You to Jo Anna Rothman's kindness, devotion to her work, and her 32day Receiving Project. It's changing my everyday perceptions. I'll write more about it soon.
➱ Thank You to my mysterious Guardian Angel, I don't know your identity but you know you are. I thank you from the bottom of my heart.
➱ Thank You Anne-Julie Aubry for creating such beautiful artwork. I received the handmade journal I bought her, it's just amazing. So pretty that I am affraid to mess it up by writing in it.
➱ Thank You the Universe for bringing me all I need to fully trust my abilities. I'm getting more ready each day.
➱ Thank You to Alice Kara for being her, for being a wonderful friend, and for believing in me. I can't wait to start our projeeeect !
Thank You for everything.
If you wrote your Gratitude Friday on your blog, don't forget to enter your NAME and URL below so I'm notified and can come to read you (you can also join by commenting this post):
[linkme]