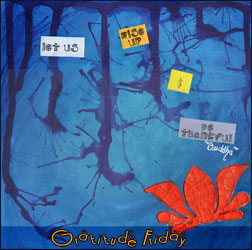 Gratitude Friday is a weekly ritual I started in order to focus on all the small and big positive things that happened during my week. I invite you to join me, you'll see how much being thankful can change your life. If you want to know more about it, read my introduction post.
A new week is ending, again…
Today, my brother-in-law arrives from France for a 2week vacation with us; he was our first visitor last year and we're more than happy that he's spending his vacations with us, and that he'll be there for Grenouille's birthday next week.
Thank you to the Sun that still warms me despite some cloudy rainy days this week. I read several times yesterday "autumn is there", I like fall but I want to enjoy every bits of Sun I can have because soon, the rain will be there non stop for months.
Thank you to my Lover, who takes some time every evening to work on my soon-to-be-launched shop, and for redesigning my blog/website.
Thank you Paola, for taking some precious time to waving a hi to me while she's spending a vacation week with her family.
I'm very thankful to all the people who take part in my projects, like Gratitude Friday, and take some of their time to share. I can't wait to tell you more about my big secret project 😀
Thank you to my fellow Art Journalers at Art Journal Love Letters, for this week chat. I love the energy flowing there, and I was able to witness the bloom of what will be absolutely wonderful, powerful, giganormous (go Lisa ! DO IT !!!).
Thank you for everything I receive. I learn everyday to enjoy what the Universe brings in my life, small as well as big, positive and negative. Eventually, it's all good. It makes me stronger.
Thank you in advance to all of the wonderful people that will take a leap in their creative business buy buying Kelly Rae's ebooks, via my affiliate link so I'll earn a little bit of money to invest in my shop (you can read my thoughts about this awesome class here)
If you wrote your Gratitude Friday on your blog, don't forget to enter your NAME and URL below so I'm notified and can come to read you (you can also join by commenting this post):
[linkme]