I don't know how your Creative Spirit works. And I must confess that I am just at the beginning of discovering the all process of mine.
I can have my head buzzing for weeks, full of new images, new color combinations, new pattern I want to try, new techniques I want to explore that I have no idea how to manage all these things I want to do. And I can be for weeks not feeling like creating something new, or going on with what is actually in progress. Like "I don't even want to look at my pain or see my crayons". It's a real big roller coaster. And being at the low side of the loop is sometimes very hard and frustrating. I'm sure you've been there, too. Haven't you ?
I still don't really know for sure how to deal with it, but realized that forcing creativity and inspiration is absolutely not working for me. So I go with the flow, I do something else until it strikes my head again. BUM !
October has been a mix of "wow I want to create this, and that, oh and this new thing is just fantastic, I have to give it a try", and about ten days of "why do I want to create, by the way ? I'm not even a real artist that has real projects, that sells blablabla" and I did nothing except writing again as a daily practice and achieve some experience pages in my Art Journal.
And the thing is that… I'm have facing a blogging block for two weeks now. Absolutely no will to write here. I have no idea where it cames from, it slapped me in the face out of nowhere. Just I didn't want to write on my blog. And as always, I decided not to go against what my heart was telling me (to be silent).
BUT I fell in love all over again with painting, with creating my world, with wanting to put it inside in the World.
How do you deal with your creative ebb and flow ? Do you know how to always access this source of inspiration within you; how do you do ?
I'd love to hear from you. Sharing with others our process sometimes just helps to identify how we roll.
Here is 3 of the artworks I work on this month (The smaller ones measure 16″x20″. Click to enlarge).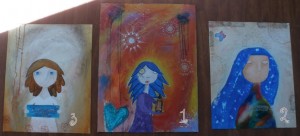 Hope in a bottle
Uniqueness
I am meant to shine
The first one (in the middle) was in progress for MONTHS. No kidding. I remember having shown the sketch at the early beginning on my Twitter account. I was not happy with it, too much brush strokes showing, some of the colours weren't as I wishing them to look etc. As Jesse Reno would say "if you wonder "Am i done with it ?" then the answer is simple: "NO !!!!"" 😉 I was less affraid to go over the part I didn't fully love, to cover again and again. I added this and that. It needs more small details and then it'll be finished.
The second one (on the right) was inspired of a discussion we had regarding our values in Jamie Ridler's Circe's Circle. It says "I accept and embrace my Uniqueness". Because I know how hard it is to stand for who you know you are, and not who you want people to think you are and even less who people think you are. It's hard to finally be able to say "I am me, and only me". So this painting is my little reminder that we are all Unique, and that it's thanks to all our uniquenesses that the World is so rich and so beautiful.
Prints of it are already available in my RedBubble page: right here. And if you only want the "quote", here it is.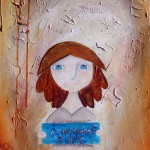 The last one (click to enlarge) is nearly done too (I worked more on it since I took the general picture above). I just love love love it. It was inspired by my session with the awesomely fantastic Jo Anna Rothman.
I love the gentleness I see in it, but she's definately bold. And she is not affraid of affirming that yes, she is meant to shine, she assumes it because there's no shame of shining. Because we all carry Light and Darkness inside, but we all deserve to show our Light to others. I have to accept that I'm not only made of Darkness and that my Light shouldn't only stay inside. I experimented a technique learned in Julie Prichard's last online class, in duo with Chris Cozen, called Texture Town.
I fell in love with saying what i have to say through my artwork, with writing everyday, with having paint all over me (oops), with dreaming of what I could do next at night.
And it's SO good to be in love.